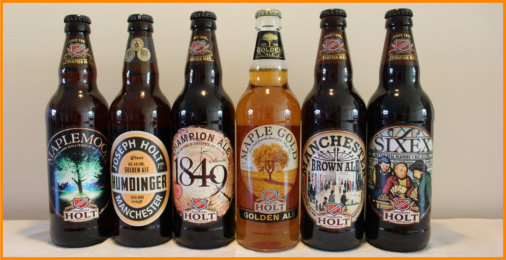 Holt's are an independent family owned firm who have been brewing in Manchester since 1849. They have 127 pubs in North West England and supply over 500 other outlets across the country.  The firm bought their first pub in 1861 and started bottling beer in 1901.  The specialise in cask ales and offer a wide range of beers including Golden Ale, Bitter, Mild, IPA and a Black Ale.  Holt's are active in the local community and set up the Christie Hospital and Holt Radium Institute.  Here are my tasting notes:
Champion Ale 1849 4.5%
This is a dark ruby ale with a very full on malty, caramel flavour.  I would call this a brown ale which is a traditional northern style of beer.  It is slightly sweet, not unlike a mild.
Humdinger Golden Ale 4.1%
Mexican honey is added to this golden brew to give it a well-balanced taste.  This is a modern beer with a citrus aroma.
Maple Moon 4.8%
A dark golden beer with a touch of maple which does work and balances the citrus flavour.
Maple Gold Golden Ale 4.3%
This is a lighter version of Maple Moon.  It is a golden ale with a fruity, citrus taste with just a hint of maple syrup.  
Sixex Strong Ale 6%
This is a strong ale brewed to a 100 year old recipe.  I really enjoyed this full on rich toffee flavoured beer.  It is a beer to sip and really appreciate. It is a long time since I tried anything so full of flavour.  Highly recommended.
Manchester Brown Ale 3.6%
I was immediately drawn to the Lowry-like artwork on the label which suggests that this is an older style of beer.  These types of low alcohol, sweet brown beers are deeply unfashionable now but were widely drunk up until the 1960s.  I really like mild and brown ales with their sweet malty taste with an almost complete absence of hop flavour.  
GBBF 2020 cancelled
Holt's beers are available by mail order from: www.bestofbritishbeer.co.uk/
The beers listed above cost from £29 for a case of 12 x 500 ml bottles.
The Great British Beer Festival (GBBF) 2020 which was scheduled to be held from 4 – 8 August 2020 at Olympia, London has been cancelled by CAMRA.  GBBF was the largest of its kind in the UK and attracted crowds of over 40,000.  Other smaller festivals have also been cancelled including the Emsworth Beer Festival which was due to be held from 25 -27 September.  The organisers hope to be able to hold the event in the winter.   It is possible that we will not see any beer festivals in the UK this year.  For up to date information on beer events see What's Brewing at: www.camra/org/uk
Will our pubs ever get back to normal?
Some pubs re-opened on 4 July. The new rules about social distancing means table service only. It will be interesting to see how this might work.    All pubs in the UK have been closed since 23 March 2020.  For the last 30 years there has been a steep decline in the number of pubs in the UK with up to 1000 closing each year.  In 2019 there were around 38,000 pubs in England and Wales together with 1,800 breweries.  Large pubs, particularly those with gardens may be able to manage social distancing but small pubs may struggle to open.  Pubs with restaurants may also be viable but small community pubs are at risk.
Most pubs in the UK are now owned by property companies such as Admiral Taverns, Ei group, Mitchells & Butlers, Punch and Wellington.  Their aims are to maximise the value of their real estate and we may see some of their pubs closing and ending up as housing developments or convenience stores.  Some pubs have tried to keep the business running by offering beer and/or food delivery services.
Demand for beer during the closure has remained high with many mail order firms reporting record levels of sales.  Prior to the Coronavirus emergency 46% of beer was consumed in pubs.  Hopefully drinkers will return to pubs but the current social distancing rules mean that there will be no return to the way things used to be.
By:
David Harris, Member of the British Guild of Beer Writers - Email: mydogisfinn@gmail.com