Cider has been popular in the UK for hundreds of years but up until recently had a poor reputation. This changed in the 2000's when the Irish firm Magners launched a big advertising campaign which featured cider being poured over ice. Magners cider became very popular especially with young people who preferred the sweeter taste of cider. Cider is also a suitable drink for coeliacs who require a gluten free diet.
Over the last few years flavoured ciders began to appear on the market, especially those produced by Swedish firms Rekorderlig and Kopparberg. It is now possible to buy cider in such flavours as: blackcurrant, peach, strawberry, lemon, coconut, rhubarb and pineapple. Flavoured ciders have replaced alcopops as the drink of choice for many young people. Pear cider is also popular but this is just apple cider flavoured with pears. Perry is the correct name for the drink made solely of fermented pear juice.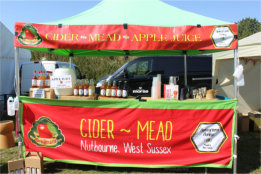 In the 1980s the craft beer revival began in the UK and has grown steadily, especially over the last 10 years which has seen the number of breweries in the UK double to around 1800. Craft cider never disappeared but tended to be found mainly in the apple producing areas of England such as Somerset and Hereford. In recent years there has been something of a craft cider revival with new cider makers coming along and making high quality real ciders that do not require artificial flavours.
In the UK we drink around 1.3 billion pints of cider a year; that is about 20 pints per person. We drink six times as much beer in the UK as cider. However we are the world's biggest cider makers and consumers. Half of all cider consumed in the world is made and drunk in the UK. Cider is traditionally made from cider apples but now eating and dessert varieties are being used in cider production.
You should be able to buy a good selection of craft ciders from larger supermarkets and off licences. I have been trying a few craft ciders and here are my tasting notes.
Hogan's Hip Hop hopped cider 4% abv. Hogan's are based in Alcester, Warwickshire and have been making cider commercially since 2005. They offer eight types of cider and perry plus a variety of specialist ciders. Hip Hop pours a very pale gold with an intense fruit aroma. It is very dry, with a sharpish lemony flavour which is created by the addition of hops. Hops are added to beer as a preservative and flavouring agent but some cider makers are now also adding hops to create new flavour profiles.
Kentish Pip High Diver cider 4.8% abv.
This cider maker is based on a farm near Canterbury, Kent. They offer a range of cider in keg or bottles. High Diver is made of Cox and Bramley apples. It pours a pale straw colour with a green apple aroma. It is a medium dry slightly sparkling cider. The makers state that this will go well with seafood or cheese.
Kent Cider Company Yowler cider 5.2% abv. They are also based in Canterbury and make a range of ciders including some single variety types such as Russet, Granny Smith and Gala. Yowler is a dark gold cider which is full of real fruit flavour.
Big Nose and Beardy Great Expectations Medium Sweet cider 6.2% abv. This firm is named after the founders and are based in Framfield, East Sussex. Their ciders are still and unfiltered. Most of their ciders are sold through a cider club where you sign up for a monthly box of six different ciders. You can also buy the direct from the farm. This is a real farmhouse scrumpy style drink. It has a bitter/sharp taste with plenty of tannin coming through. This is what farmhouse cider used to taste like. Definitely not for wimps.
Hawkes Urban Orchard cider 4.5% abv. Hawkes are based in SE London where they press apples sourced from farms. They are the first cider maker in London and join the huge numbers of craft brewers who are based in the capital. They also have a tap room that is open from Wednesday – Sunday and serves pizza along with a range of ciders. Urban Orchard is a medium dry, sparkling cider made with Braeburn, Bramley, Gala and Pink Lady apples.
Perry's Bottle conditioned cider 6.5% abv. Perry's are based at Ilminster, Somerset which is a traditional cider making area.
They began making cider back in 1920. The farm is open to the public where you can visit their farm shop, café and rural museum. They make four core ciders plus four single variety ciders. I found this a very well balanced cider which had a real authentic taste. It had some tannin but was very accessible.
By
David Harris, Member of the British Guild of Beer Writers - Email: mydogisfinn@gmail.com