THE BEST BEER BOOKS OF 2019
Books make a great present so why not give a beer-themed book to the beer lover in your life? Here is my selection of the very best beer books that have been published over the last 12 months. You can order all of these books through your local bookshop or online.
BEER BOOK OF THE YEAR

A Beer in the Loire by Tommy Barnes. Muswell Press. £8.99.
Have you ever dreamed of giving up the rat race, moving to France and starting a brewery? For Tommy, his girlfriend Rose, son Albert and Burt the dog it all came true. This is a very well written, highly amusing account of how they moved to Braslou, Indre-et-Loire, France. They buy an old manor house, start brewing their own beer and become accepted as part of the local community and make a living selling beer in a wine growing area.
GENERAL INTEREST BOOKS
A Natural History of Beer by Rob DeSalle & Ian Tattersall. Yale University Press. £20.
If you have studied science and want to know more about how beer and its ingredients have evolved then this is a fascinating read. There is quite a bit on beer in ancient times, the evolution of barley and hops, the DNA of yeasts and fermentation. It is not a book about the chemistry of brewing but rather a detailed scientific study of everything about beer including how alcohol alters our senses and how we develop beer bellies.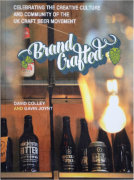 Brand Crafted by David Colley & Gavin Joynt. Brand Crafted Creative. £15
This book is all about beer brand culture, community and creativity. The book brings ideas together from breweries, designers, illustrators, bottle shop owners and beer communicators. It is beautifully illustrated and full of interviews with some of the leading names in the craft beer scene. If you want to know what is behind building a craft beer brand then this book is for you.
It's the Beer Talk by Ian Clayton. Route Publishing. £12.99
Ian Clayton is an experienced writer and broadcaster who has written about music, Rugby League and Northern life. Initially I expected this book to be in the Pete Brown/Bill Bryson style of gentle, humorous, observational writing but it is in fact a gritty memoir of a lost world of rough West Yorkshire pubs, Rugby League, mining villages and working men's clubs. The book is part memoir, part eulogy to a world that came to an end in the 1980s with the Miners' Strike and the eventual closure of Britain's coal mining industry. Ian is a fine writer who paints a vivid picture of working class life in the North of England as reflected through the prism of a beer glass.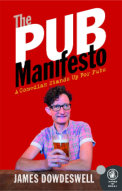 The Pub Manifesto by James Dowdeswell. CAMRA. £12.99
James Dowdeswell is a comedian, actor and wine expert. He was brought up in his parent's pub. The book is a miscellany of pub information with snippets about the highest pub in the UK, gluten free beer, pub clocks and cider. We also go off on a tangent with chapters about gin and whisky. Some of the book is based on one of his stage acts where he tries to work out what constitutes the perfect pub.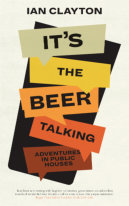 The Beer Lover's Table by Clare Bullen & Jen Ferguson. Dog n Bone. £16.99
This is not a book about cooking with beer or a pub grub recipe book. Rather it tries to introduce the reader to the varied styles of beer that are available today and pair them up with some innovative recipes. The book is divided into five chapters each of which looks at a particular style of beer and then gives around 12 recipes that would go with these beers. The recipes are beautifully illustrated and most of the dishes are what you would expect to find in a top end bistro or restaurant.
Beer Enthusiast's Manual by Tim Hampson. Haynes. £14.99
This is a large format, illustrated book which is in four parts. Parts one, two and three cover the history of beer, beer styles and beer tasting. Part four is a practical guide to home brewing with a step to step guide and comprehensive fault finding tables. A good buy if you are contemplating brewing your own beer.
PUB DIRECTORIES
Good Pub Guide 2020 (38th ed.) by Fiona Stapley. Ebury. £15.99.
This guide book lists the top 5,000 pubs for food and drink in the UK.
The following local pubs are included. Hayling: Maypole, Havant Road. Emsworth: Blue Bell, South Street; Coal Exchange, South Street; Lord Raglan, Queen Street; Sussex Brewery, Main Road, Hermitage. Havant: Old House at Home, South Street; Robin Hood,
Homewell; Wheelwrights Arms, Emsworth Road; Royal Oak, Langstone High Street.
Good Beer Guide (47th ed.) 2020. CAMRA. £15.99.
This annual guide lists the top 4,500 pubs in the UK for Real Ale (cask conditioned beer). Well done to the following local pubs who have all pulled off the "double" by appearing in both pub guides. Havant: Wheelwright's Arms, Emsworth Road. Emsworth: Blue Bell,
South St; Coal Exchange, South St. Hayling: Maypole, Havant Road.
By
David Harris, Member of the British Guild of Beer Writers - Email: mydogisfinn@gmail.com