THE BEST BEER BOOKS OF 2018
If you are looking for a present for someone who likes a beer then here are some suggestions.
All of these books can be ordered through your local bookshop or online.
BEER BOOK OF THE YEAR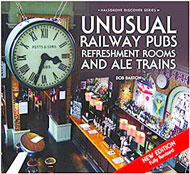 Unusual Pubs, Refreshment Rooms and Ale Trains by Bob Barton. Halsgrove - £16.99.
This is a book of interest to lovers of trains, railway buildings and pubs. The bulk of the book is taken up with a gazetteer describing seventysix railway pubs and refreshment rooms across the country. The book is beautifully illustrated with pictures of the pubs and rooms. The author has personally visited all of the sites and this really comes through in his enthusiastic writing. (first published in 2013)
SERIOUS READS ABOUT BEER
20th Century Pub by Boak R & Bailey J. Homewood Press - £16.99 - This is a social history of the pub which starts by offering a definition of a pub as a "third" place which is neither home nor the workplace. The book is well researched and provides very enjoyable read for anyone with an interest in how pubs have developed.
Think Beer, Drink Beer by John Holl. Basic Books (USA) - £18.99 - John is one of America's leading beer writers and was editor of All About Beer magazine for some years. This book is a series of long essays about the growth of craft beer in the USA, the importance of really appreciating beer, and the need for diversity in beer. Although written for an American audience, British beer lovers could learn much from John's wise words.
PUB DIRECTORIES
Where to Drink Beer by Jeppe Jarnit- Bjergso. Phaidon - £16.99 - This is a big, hardback directory listing 1,600 bars in seventy countries and is compiled by five hundred brewers, publicans and beer writers from around the world. The UK gets 115 entries of which 35 are in London. Entries are quite basic, listing address, phone number and opening hours.
Good Pub Guide 2019 (37th ed.) by Fiona Stapley. Ebury - £15.99.
This guide book lists the top 5,000 pubs for food and drink in the UK.
The following local pubs are included. Emsworth: Blue Bell, South Street; Coal Exchange, South Street; Lord Raglan, Queen Street; Sussex Brewery, Main Road, Hermitage. Havant: Old House at Home, South Street; Robin Hood, Homewell; Wheelwrights Arms, Emsworth Road; Royal Oak, Langstone High Street. Hayling: Maypole, Havant Road.
Good Beer Guide (46th ed.) 2019. CAMRA - £15.99 - This annual guide lists the top 4,500 pubs in the UK for Real Ale. Well done to the following local pubs who are mentioned. Havant: Old House at Home, South St; Wheelwright's Arms, Emsworth Road. Emsworth: Blue Bell, South St; Coal Exchange, South St.
BEER TRAVEL GUIDES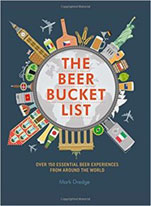 The Beer Bucket List by Mark Dredge. Dog 'n' Bone - £16.99 - The book kicks off with sixty pages on North America. The UK warrants forty pages and Europe gets fifty-six pages with the lion's share going to Germany and Belgium. Australasia get a respectable twenty-six pages of coverage. Craft beer and global travel are both very popular activities for younger people and this well illustrated book will provide much inspiration.
CAMRA'S Good Beer Guide Belgium (8th ed.) by Joe Strange & Tim Webb. CAMRA - £14.99 - This book has brief chapters on the history of Belgium, travelling to Belgium, Belgian food, how beer is made and Belgian beer styles. There are listings over two hundred and forty Belgian breweries, their history and ratings for their beers. There is also a comprehensive round-up of all the main beer cafés in Belgium by province and town.
Belgian Beer Trails by Erik Verdonck - Lannoo (Belgium) - £25.27
If you are planning a beer holiday to Belgium how can you maximize the time you spend there in sampling the local brews? A good starting point is Belgian Beer Trails which divides the country up into nine areas and lists the breweries in each location together with tourist information about the area. The book is beautifully illustrated and contains full contact details for 195 breweries and 12 beer museums. There are also suggestions for nearby cafés and bars where local beers can be sampled.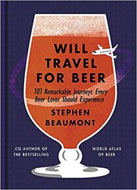 Will Travel for Beer by Stephen Beaumont. Octopus - £14.99 - This profusely illustrated book is based on the author's twenty-seven years of global beer writing in which he takes us on a trip around the world focusing on beer festivals, bars and breweries rather than specific beers. The book may provide inspiration for those who are planning a gap year and want to fit in some craft beer destinations as well as the usual tourist attractions.
Atlas of Beer by Hoalst – Pullen N & Patterson MW. National Geographic - £25 - If you like reading the National Geographic magazine, then this atlas of beer may be of interest. The book is full of diagrams, facts and figures, maps and beautiful colour photos. The authors visited four hundred breweries in twenty-eight countries in order to produce this striking study of world beers.
World's Best Beers by McFarland B & Sandham T. Jacqui Small - £25 - The authors regularly tour the UK with their Thinking Drinkers show. The format of the book is to have brief reviews of beers from as many different craft breweries as is possible. There are longer articles about key breweries. The main countries covered include: UK, Belgium, Germany, Czech Republic and the USA.
STYLE GUIDES 1001 Beers You Must Try Before You Die by Adrian Tierney-Jones. Cassell. £20 - The beers are divided into sections: Amber, Blonde, White, Dark and Speciality with each beer getting a write-up on its history and background. It is a global selection of beers with not all being available in the UK. The book is well illustrated. Personally I would have preferred the book to have been organised by style rather colour of beer - (revised ed. First published 2010 and 2013)
Craft Beer Dictionary by Richard Croasdale. Octopus - £15 - This book contains comprehensive definitions of around two hundred and thirty terms that are commonly found in the world of beer. There are also one hundred full page arty beer-themed illustrations. The book absolutely up-to-date and includes NEIPA (New England or NorthEast IPA) an unfiltered, hazy, fruity, aromatic style of IPA which was only recognized as a distinct style in mid-2017.
Craft Beer by Dominic Roskrow. Collins - £6.99 - This is a pocket sized book with illustrated reviews of one hundred and twenty different craft beers. The beers are listed in alphabetical order rather than by style or country which is the format adopted by most other writers. Dominic's selection is quite heavily weighted in favour of British beers with over half the entries coming from the UK.
Pocket Guide to Beer by Joe Dick & Nikki Welch. Birlinn - £7.99 - This is another slim, pocket guide to help one understand the myriad of styles which comprise the world of craft beer. What makes this book somewhat different is that it groups beers onto a tube map style graphic. The idea is that the different beer styles are like stations on the underground and each line takes one on a journey of discovery through the various categories of beer found within a style group.
By
David Harris, Member of the British Guild of Beer Writers - Email: mydogisfinn@gmail.com