CAROUSING IN THE COTSWOLDS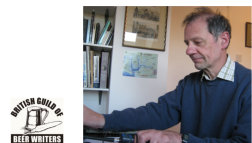 I have recently returned from a week in the Cotswolds with the car brimming with Cotswold beer. The Cotswolds are an Area of Outstanding Natural Beauty (AONB) and comprise 2,000 sq. kms. of the counties of Gloucestershire, Oxfordshire, Wiltshire, Somerset, Worcestershire and Warwickshire. The borders of the Cotswold are roughly, the Thames to the South, the Severn Vale to the west and the Vale of Evesham to the north. In Gloucestershire alone there are 40 craft breweries. I was very impressed by both the quality and range of local beers available in Cotswold towns. Local Co-ops stocked a wide range of beers from local breweries. The two oldest breweries in the Cotswolds are Donnington, near Stow-on-the-Wold which has been brewing since 1865 and Hook Norton, near Banbury who started in 1849.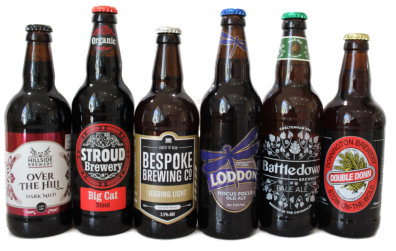 Here are my tasting notes on six different styles of beers made by six different Cotswolds breweries.
Donnington Brewery Double Donn Cotswold Ale 4.4% abv
I would describe this as a Best Bitter. It is a superb example of English beer at is very finest. It pours a rich ruby colour with an autumnal leafy aroma. The taste is very full bodied with lots of malt coming through. There is also a herbal bitterness to beer. This is the type of beer one hopes to get when asking for a pint of bitter. Donnington are based in the tiny village of Upper Swell which is near Stow-on-the –Wold where they have been brewing since 1865. Their beers are available from 20 local pubs in the Stow area.
Hillside Brewery Over the Hill Dark Mild 3.5% abv
Mild is an old fashioned style of beer which has almost died out in the south of England. I was pleasantly surprised to find it widely available in the Cotswolds area.
This beer pours black and has a chocolate, coffee, roasted aroma. It is a rich, smooth beer which is verging on being a stout. Hillside are based in Longhope, Gloucestershire and were founded in 2011. They brew a range of traditional English beers as well as a craft lager.
Stroud Brewery Big Cat Organic Stout 4.5% abv
It is good to be able to try a traditional stout as many craft stouts are now flavoured with coffee, chocolate and other additives. This stout pours black, has a chocolate aroma and a very rich, full smooth coffee/chocolate taste. It is not too roasted and would be a good drink for any occasion. The brewery was founded in Stroud in 2006 and their beers are available at local pubs and independent retailers in the Cotswolds area.
Bespoke Brewery Leading Light Light Blonde 3.5% abv
This is a Golden Ale which pours a rich gold colour with a herbal aroma. It has a dry, bitter, restrained taste far removed from the heavily hopped American style IPAs which seem to dominate the output of many craft brewers. This is a beer to give a lager drinker who states they don't like bitter. I felt it would go well with a curry.
Bespoke Brewery are based in Mitcheldean, Gloucestershire and have been brewing since 2012. They produce a wide range of beers including Stout, Bitter, Strong Ale, Mild, and several IPAs.
Loddon Hocus Pocus Old Ale 5% abv
This fine beer pours a ruby red with a caramel aroma. The taste is full on malt and it has a slightly syrupy mouth-feel. This is quite a chewy beer which reminded me of Gales HSB. Loddon were formed in 2002 and are based at a farm in the village of Dunsden, Oxfordshire. They supply over 500 outlets and brew half a dozen traditional beers. Their beers are widely available in the Oxfordshire/Thames Valley area.
Battledown Pale Ale 3.8% abv
This is a good interpretation of a modern style pale ale. It pours a golden yellow and has grapefruit, tropical fruit and honey aroma. The taste is not as overwhelmingly citrusy as some American style ales. This is a pleasant, fruity drink that would make a good session ale. Battledown have been brewing in Cheltenham since 2005. They supply over 250 outlets.
GOOD PUB GUIDE 2019 (Ebury Press, 2018. £15.99)
Well done to the following local pubs who are listed amongst the top 5,000 pubs for food and drink in the UK in the 2019 edition of this prestigious publication:
Emsworth:
Blue Bell, South Street;
Coal Exchange, South Street;
Lord Raglan, Queen Street;
Sussex Brewery, Main Road, Hermitage.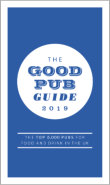 Havant:
Old House at Home, South Street;
Robin Hood, Homewell; Wheelwrights Arms, Emsworth Road;
Royal Oak, Langstone High Street.
Hayling:
Maypole, Havant Road.
My Beer Books of the Year article will appear in the Jan/Feb 2019 editions of Postcode Publications.
By
David Harris, Member of the British Guild of Beer Writers - Email: mydogisfinn@gmail.com