Down in Devon
One of the many pleasures of holidaying in England is being able to sample local beers. There are over 1,700 breweries in the UK with every county having a considerable number of small breweries, most of which have opened over the last ten years. This summer I visited Devon which has around fifty breweries, many of which are based on farms and other rural locations. Devon is one of the largest counties in England and is almost twice the size of Hampshire. It has a population of over a million. It also has over 30 cider producers but I have confined my research to beer. The oldest breweries in Devon go back to the 1980's and only eleven of the fifty Devon breweries were founded before 2000. If you are in Devon you should not have to go far in search of a good pint. The 2018 CAMRA Good Beer Guide list over 120 pubs in Devon which serve excellent cask ale.
Here is just a small selection of Devon beers that I have tasted recently. You should be able to find them in pubs and off-licences in Devon and occasionally as guest ales in pubs and at beer festivals. Most breweries offer a mail order service for their bottled beers.
Otter Session Bitter 3.6% abv
Otter Brewery was founded in 1990 and is based in the village of Luppitt which is near Honiton. The brewery is named after the nearby River Otter. The beers are brewed using their own spring water. Otter also brew Golden, Amber, Strong Ale and a lager. Their beers can be found on draft in many pubs in Devon and the bottled beers can be bought online. This beer pours a copper colour with a malty, biscuit aroma. It is very well balanced with a slightly herbal flavour. A very good example of a traditional English bitter.
Dartmoor Legend Ale 4.4% abv
This is the highest brewery in the UK at 1,465 feet above sea level. They began brewing in 1994 and have expanded several times to become the second biggest brewery in Devon. The brewery is located near to the infamous Dartmoor prison. The aroma of the brewing must be tantalising to the prisoners. All barley used is locally grown. They also brew IPA, Ruby and a Jail Ale which I suspect is not available in the prison. Their beers are widely available in Devon and can also be bought online. Legend is a copper coloured ale with a herbal aroma and a fine balanced taste.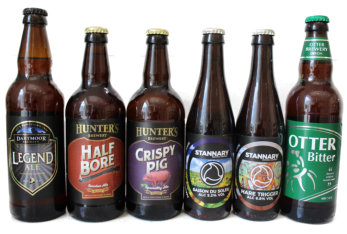 Another very good version of the traditional English bitter.
Hunters Crispy Pig Light Golden Ale 4% abv
Hunters started up in 2008 and have a 60 barrel capacity. They are based on a farm at Ipplepen which is near Newton Abbot. The have their own bottling plant and also bottle beers for other local breweries. They offer a wide range of beers including: Golden, Stout, Amber and a variety of bitters. This beer pours a bright golden colour and has a slightly apple aroma. The taste is of citrus with a touch of apple. The beer is made with local barley and wheat, Boadicea hops and a touch of apple essence. It was originally brewed for a hog roast. The tinge of apple would certainly help the beer to complement roast pork.
Hunter's Half Bore Session Ale 4% abv
This is a modern take on a traditional amber/bitter ale. The beer pours a dark gold colour with a burnt orange aroma. The taste reminded me of dark marmalade along with the traditional bitter flavour of English hops. An excellent session ale that would go well with most foods.
Stannary Saison du Soleil 5.2% abv
This Tavistock brewery was opened in 2016 and has a 25 barrel capacity. The owners have been influenced by the American craft brewing revolution and they have managed to brew around twenty different beers over the last two years. These include many US style IPAs along with porters, wheat beers and other less common styles. Their beers are available at several pubs in Tavistock and Exeter. Their Saison is brewed with barley, wheat and Mandarina Bavaria hops. This is a pale gold beer with a yeasty aroma. The beer is quite complex with a mandarin orange flavour mixing with a fresh fruity, yeasty taste.
Stannary Hare Trigger IPA 6.8% abv
This is an American style Double IPA flavoured with Amarillo, Citra, Mosaic and Simcoe hops. It has a golden colour with a big citrus nose. This is quite a strong beer but does not overwhelm one in the way that some big US style "hop bombs" can do. This is a beer for sipping slowly and really appreciating the depth of flavour. Perhaps a little strong to have with a meal but I felt it went well with some cheese.
By
David Harris, Member of the British Guild of Beer Writers - Email: mydogisfinn@gmail.com