Sour Beers – the Next Big Thing?

Businesses are always looking for new products to tempt customers. Every week hundreds of new lines are launched and consumer magazines are full of enticing new goods to tempt the shopper. Breweries are no different and having weaned people off bland industrial lager onto heavily hopped American style Pale Ale many are thinking of where to go next. In the USA, where most new trends originate, the next big thing in brewing is sour ales, some of which may also be barrel aged. In the old days all beers were sour, due to fermentation from wild air borne yeasts and were stored in barrels. The isolation of yeast by Louis Pasteur in 1857, improvements in brewing science and the development of metal casks and kegs put an end to this style of beer.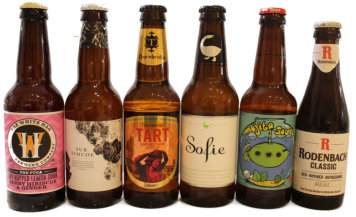 An exception was in Belgium where craft brewers carried on brewing in the traditional way which involved fermenting beer with wild airborne yeasts and then maturing it in wooden barrels. Lambic and Gueuze are Belgian styles of naturally fermented, barrel aged beers. Brewers from all over the world have looked to these traditional Belgian styles for inspiration when brewing their own sour beers. Sour beers are neither top fermented as with most ales, nor bottom fermented, as with lagers. In practice most modern sour beers will have yeast added as well as undergoing spontaneous fermentation. I have recently sampled an international selection of sour beers and here are my tasting notes.
Thornbridge Tart Bakewell Sour 6% abv. (UK)
Thornbridge are one of Britain's most innovative brewers and offer many different styles of beer. They are based in Bakewell, Derbyshire and started up in 2005. This beer, which is named after a local dessert, the Bakewell Tart, pours a light yellow colour and has a lemon aroma. The beer has a tart, refreshing lemonish taste but is not specifically sour. At 6% abv. it is not really a session beer but is very thirst quenching and would make a pleasant drink to sip on a hot summers day.
Rodenbach Classic Flanders Red Ale 5.2% (Belgium)
This is the real thing, a genuine, Belgian, barrel aged sour beer. The beer is matured in oak vats for up to two years and then is blended with fresh beer. Rodenbach are based in Roeselare, which is in the west of Belgium, and were formed in 1821. It differs from the Lambic and Gueuze beers in that it is a red ale with a more acetic taste. Rodenbach pours a reddish brown colour and has a distinctly balsamic vinegar aroma. It has a very distinctive taste which can only be described as sweet and sour. This beer is very refreshing although its unique taste will not be to everyone's liking. Personally I think this beer has a real depth of character but not likely to become a best seller.
Tiny Rebel Mojita Sour. 3.5% abv. (Wales)
Tiny Rebel are based in Newport, South Wales and rose to fame in 2015 when they won the Champion Beer of Britain award, which was a tremendous achievement for a business that had only been founded in 2012. Mojita Sour pours a pale yellow with a lemon peel aroma. It has a very tart, sour, lip puckering taste which reminded me of home-made lemonade. It is flavoured with peppermint and Kaffir lime leaves. At only 3.5% abv. this would make a splendid session beer to drink on the beach.
To Øl Sur Simcoe Session Pale Ale 4.5% abv. (Denmark/Belgium)
This beer is brewed by the De Proef brewery in Belgium on behalf of Danish brewers. The beer pours a light straw colour with a citrus aroma. It has a delicate lemon/lime flavour and is the least sour of the beers I have sampled. To Øl are what is known as a gypsy brewer in that they do not own a brewery but contract their beers out to other brewers. They were founded in Copenhagen in 2010 and now export to over 40 countries. To Øl have a brew pub in Copenhagen which offers 32 different types of beer on tap.
Goose Island Sofie Belgian Style Farmhouse Ale 2016 6.5% abv. (USA)
This beer is brewed in Chicago by one of the first pioneering craft breweries in the USA. They started with a brew-pub in 1988 and expanded in 1995 when they built a large brewery. Since 2011 Goose Island has been owned by global brewers AB-Inbev. The beer pours a pale straw colour with a gentle fruity aroma. The taste is quite complex with orange, pepper and vanilla notes.
White Hag Irish Brewing Company, The Puca Dry Hopped Lemon Sour Beer (with Berry, Hibiscus and Ginger) 3.5% (Ireland)
In the Sept/Oct 2017 edition of Postcode I sampled a number of very interesting Irish beers. Therefore I was pleased to try another Irish brew from this Sligo based brewer who started brewing in 2014. The Puca pours the colour of rose wine and has a complex fruit aroma. The taste is really intriguing with lemon, berry fruits and hibiscus flavours coming though. This is a very unusual beer but very enjoyable and a beer you could offer to someone who claims not to like beer.
Beer Facts and Figures
The biggest month for beer sales is December when twice as much beer is sold than in January which is the quietest month.
74% of all beer sold in the UK is lager. In 1970 lager had only 7% of the beer market.
Draught beer sold in pubs accounts for 45% of all beer sales. Bottled beer accounts for 22% and cans make up 33% of beer sales.
The UK imports over 10 million Hectolitres of beer each year
We import beer mainly from Belgium, France, Ireland, Italy and Netherlands.
Beer exports from the UK are around 6 million hectolitres.
Britain's biggest export markets for beer are France, Ireland and the USA.
The average wages for pub staff are: f/t bar staff £16,600 p.a., pub manager £25,000 p.a., chef £19,000 p.a.
By
David Harris, Member of the British Guild of Beer Writers - Email: mydogisfinn@gmail.com