The craft beer movement continues to grow both in the UK and the USA. Here in Britain we have around 1,655 craft breweries whilst in the USA there are over 5,000 breweries. Up until the 1960's beer production in the UK was mainly in the hands of six big brewers; Courage, Scottish & Newcastle, Bass Charrington, Allied (Ind Coope), Whitbread and Watney Mann. These big firms tended to buy up small local breweries and then close them down. The breweries also owned most of the pubs and wholesalers therefore making it difficult for any new brewer to enter the market.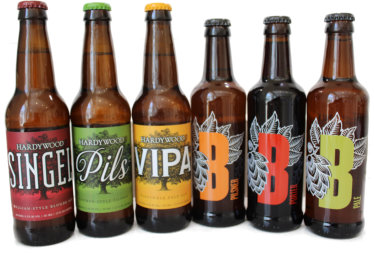 Very slowly, starting in the 1970's a number of small, independent breweries began to open in the UK. This trend continued throughout the 1980's and 1990's but really took off after 2005. About half of all breweries in the UK have opened in the last 10 years. A similar thing happened in the USA when a small number of breweries opened in the 1970's. This was an attempt to offer American drinkers something different from the bland industrially produced lager made by the big brewers. Several American craft brewers had visited the UK, Belgium and Germany and returned home wanting to recreate the flavoursome beers they had tried in Europe.
The craft beer revolution took off in the USA and has now been exported to many countries in the world. Places such as Spain and Italy which used to be associated with wine now have a thriving craft beer scene and you can even buy their beers in the UK.
I thought it might be interesting to compare the beers of a local craft brewer with the brews from an American craft brewer. Coincidentally, I was contacted by Bedlam Brewery, Sussex and Hardywood Brewery, Virginia USA who both offered me some samples of their beers. Bedlam are based at Albourne which is about 10 miles north of Brighton. They grow their own hops and offer tours of the brewery by appointment. https://bedlambrewery.co.uk/
Hardywood Brewery are based in Richmond, Virginia and opened in 2010. This is a large city in the eastern part of the USA and is about 110 miles south of Washington DC. They have their own taproom and also offer brewery tours by appointment. They have recently started to export their beer to the UK. https://hardywood.com/
Here are my tasting notes on a selection of beers from Bedlam and Hardywood:
Bedlam Pilsner 4.2% abv.
Very few British craft breweries offer a Pilsner or Pale Lager. This beer pours a gold colour with a slightly citrus aroma. It has a dry clean biscuity taste and is far removed from the bland lagers offered in most pubs. It is hopped with Saaz and Tettnanger hops. This is a beer to sip on a sunny day.
Bedlam Porter 5% abv.
This is a dark brown ale with a roasted aroma. There is plenty of coffee and chocolate flavour in this traditional beer. It made of Pale, Crystal, Brown and Chocolate malted barley and hopped with Fuggles and Goldings hops. This would go well with BBQ meats.
Bedlam Pale Ale 4.8% abv.
A dark gold coloured beer with a fruity aroma. Complex taste with blackcurrant, raspberry and citrus flavours. The beer is hopped with UK grown Cascade hops. I think this would complement Asian foods.
Bedlam also offer Golden Ale, India Pale Ale (IPA), Best Bitter and American Pale Ale. Their beers are available in bottles, cask or keg. Bedlam beers are available at around 300 different pubs in London and the South East. Coincidentally there is also a Bedlam Brewery in Virginia, USA. This is a small brew pub in the town of Staunton which is about 100 miles NW of Richmond.
Hardywood Virgindian Pale Ale 5.3% abv.
This is Hardywood's own take on India Pale Ale which they have christened Virgindian Pale Ale. It pours a gold colour with a grapefruity/tropical fruit aroma and has a good citrus flavour. It is brewed with Virginia grown hops and barley. Try this beer with Chinese food.
Hardywood German style Pilsner 5.2% abv.
This pale golden beer has biscuity taste and should be enjoyed by sipping slowly as it is quite a bit stronger than most British session lagers. This fine beer is made with European Pilsner malt and German noble hops. I would drink this with a plate of tapas.
Hardywood Singel Belgian style Blonde Ale 6.2% abv.
Many American brewers turn to Europe for inspiration and in this case it is to the pale and blonde ales of Belgium that Hardywood seek to emulate. This golden ale has a bready aroma and a yeasty, tropical fruit taste. This is a strong beer which I would enjoy after a meal, perhaps with some cheese.
The above Hardywood beers are available in the UK in 12 oz. bottles. If you visit the USA you can try their other beers which include; Pale Ale, Cream Ale, Pumpkin beer, Raspberry Ale, Peach Ale and a range of barrel conditioned beers.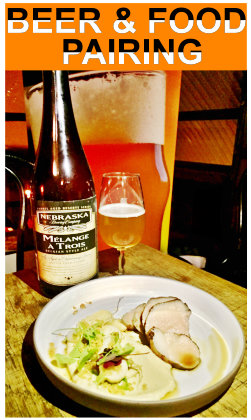 I don't think there is a lot to choose between British and American craft beers. Generally speaking US beers are stronger as they don't have the session drinking culture that we have where people drink several pints in a pub. In the US most beer is consumed at home and is sold in 12 oz. bottles and cans. American brewers, who lack indigenous styles of beer often produce challenging versions of European styles of beer which can be stronger and more fully flavoured than the original beers. Here in the UK most brewers will be happy to produce Bitter, Golden Ale, India Pale Ale and perhaps a stout/porter. Both Bedlam and Hardywood exemplify the quality driven craft approach of up and coming small breweries.
I was recently a guest of the Brewers Association which is an American craft beer trade organisation. They held a food and US beer pairing dinner at a London restaurant to which many of Britain's beer writers were invited. We were able to sample beers by leading craft brewers including: Sierra Nevada, Track 7, Coronado, Hardywood, Great Divide, Pfreim, Maui, Saugatuck, Port City and Wormtown. The beer chosen to accompany the main course of smoked pork was Melange a Trois by Nebraska Brewing. This is a massive 11.3% abv. Belgian-Style Blonde Ale which has been matured for six months in French Oak Chardonnay wine barrels. This beer has a fascinating dry, sweet, and wine-like character. Normally I would not want to drink such a strong beer with a main course but this beer was so characterful that it seemed to go down really well. Barrel-aged and sour beers are now very popular in the USA and some British brewers also offer this style which originates in Belgium.
I feel that beer is much more forgiving than wine when it comes to pairing with food. Generally speaking one should choose a beer which entire compliments or contrasts with the food. A rich dark stout would complement a beef casserole and citrusy Pale Ale would go well with spicy food. Next time you go beer shopping look out for British and American craft beers and try to choose beers which will go well with meals that you are planning to cook.