Like Coffee? Like Beer?
One of the biggest changes to our High Streets over the last 20 years has been the rise of the coffee shop. It was not that long ago that a request for a cup of coffee would be met with a rather dismal milky instant coffee, probably served in a cracked cup. Standards have risen immeasurably and now one is faced with a bewildering choice of coffee drinks: expresso, latte, cappuccino, Americano, piccino and macchiato are just a few of the many coffee variations offered by local cafes. Things are similar in the beer world. It used to be a choice between bitter, lager or perhaps stout. The rise of the craft brewery movement over the last 10 years has given us a vast choice of beers styles, old and new.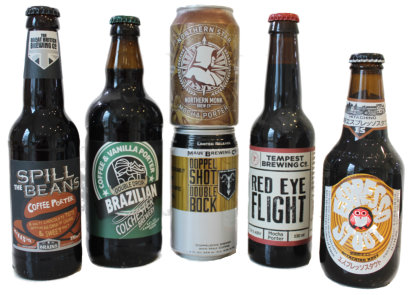 A couple of years ago I wrote an article for Postcode about Stouts and Porters explaining how this old style of dark beer was becoming popular again with small breweries now offer a stout or porter in their range of beers. I have noticed recently a new sub-species of beer arising, namely the coffee porter. This is simply a dark beer subtly flavoured with coffee. Many stouts and porters already have a complex caramel/chocolate/molasses taste to them so why the need to add even more flavour? It was American brewers who first came up with the idea of adding coffee to dark beer and there are now many different coffee flavoured stouts and porters on the market.
Here are a selection of coffee porters, stouts and bock beers which I have sampled recently:
Colchester Brewery Coffee and Vanilla Double Drop Brazilian Porter 4.6% abv.
This beer pours a very dark brown with a freshly roasted coffee aroma. The taste is complex with molasses, coffee, vanilla and roasted malt coming through. The beer is brewed with barley, wheat, hops, coffee and vanilla pods. It is a dry, smooth drink which would go well with a roast dinner or a beef casserole. Colchester Brewery was founded in 2012 in the Essex town They use the Double Drop system of brewing which involves extra fermentation tanks to ensure a clear, fully flavoured beer. They brew a large range of cask and bottled beers.
Northern Star Mocha Porter 5.9%
This porter pours nearly black and has a big foamy head which takes a while to dissipate. The aroma is burnt caramel but the taste is of very smooth milk coffee/chocolate/toffee. I think this beer would go well with a chocolate dessert. The beer is brewed by Northern Monk Brewery in Leeds and is made of barley, oats, lactose, cacao powder and coffees from Brazil, El Salvador and Sumatra. Northern Monk are based in a historic mill building in Leeds and were formed in 2013.
Kiuchi Brewery Hitachino Nest Japanese style Russian Imperial Expresso Stout 7%
This exotic brew comes all the way from Japan. This country is best known for sake but beer has been brewed commercially in Japan since 1869. Japan has around 300 breweries and many export to the USA, Australia, Far East and Europe. Expresso Stout pours a very dark brown and has a freshly roasted coffee aroma. This is a smooth beer with a very pronounced coffee flavour in addition to malt/toffee/molasses. I would try this with a pork dish. Kiuchi were founded as Sake brewers back in 1823 and in 1996 they diversified in to beer production. They produce a wide range of bottled beers including white, pale, stout, red rice and IPA.
Tempest Brewing Red Eye Flight Mocha Porter 7.4% abv.
This is a very dark beer with a strong coffee aroma. The taste is complex with caramel, coffee, chocolate, roasted malts and freshly brewed coffee coming through. The beer is made with GP, Munich, Chocolate and black malts together with oats and wheat. It is flavoured with Fazenda Pantano Brazilian coffee and American hops. This is a strong beer which might be best appreciated at the end of a meal, perhaps instead of a cup of coffee. Tempest Brewing were founded in 2010 and are based in Tweedbank in the Scottish Borders. They produce a wide range of boldly flavoured beers.
Maui Brewing Doppel Shot Double Bock with Maui Coffee 8.2% abv.
This beer has come all the way from Hawaii and offers a very different tasting experience. It pours a golden copper colour and the aroma is of coffee liqueur. The taste is rich and complex with chocolate, malts and coffee liqueur flavours prevalent. Bock is a style of beer first brewed in Germany. Bocks are bottom fermented beers (like lagers) but are very malt forward in flavour. At 8.2% abv. this is a big beer which is perhaps to strong to drink with a meal but would go down well as a nightcap or perhaps with a rich dessert. Maui Brewing are based in the town of Lahaina on the island of Maui, which is the 2nd largest of the Hawaiian Islands. They also produce a coconut porter, a dry hopped IPA and a Helles style lager.
Brains (Aldi/Great British Brewing) Spill the Beans Coffee Porter 4.4%
This beer pours dark brown and has a cocoa/coffee/roasted malt aroma. The taste is rather disappointing, reminding me of stewed filter coffee with perhaps a dash of crème de cacao liqueur chucked in. I think the brewers need to revisit the recipe, adjust the malt and find some better quality coffee to flavour the beer. Brains are a Cardiff brewery established in 1882 and are still family owned. They produce a wide range of cask and bottled beers which are widely available in Wales, the Midlands and the West Country.


If you enjoy reading my beer column you may want to read more about beer in the various specialist beer magazines which are available in the UK. Here is my list of British beer magazines:
The New Imbiber. (Bi-monthly)
Articles on new breweries, new beers, beer book reviews and readers accounts of visits to pubs in different parts of the UK. Subscription only (£15 for 6 issues) www.beerinnprint.co.uk
Beer (Quarterly)/ What's Brewing (Monthly)
You get both these publications when you join Campaign for Real Ale (CAMRA) Membership is £25 p.a. (£17 if under 26 or over 60) What's Brewing is a monthly newspaper with news of local beer festivals, branch news and beer campaigns. Beer is a more general interest magazine about breweries, food, pubs, etc. www.camra.org.uk
Ferment (monthly) £4.99
This glossy beer magazine can now be obtained from major newsagents. Well-illustrated articles about breweries, pubs, brewers, beer tastings, etc. www.fermentmagazine.com
Original Gravity (five issues a year) Free
This colour newspaper is available at selected off-licences. Articles on beer styles, home brewing, beer tastings, foreign bars, etc. www.originalgravitymag.com
Hop & Barley (quarterly) £8
Quality magazine with lengthy, well-illustrated articles on beers and breweries. www.hopandbarley.co.uk
By
David Harris, Member of the British Guild of Beer Writers