BEERS OF OLD
One cannot help but notice the huge range of beers that are available in local supermarkets and off-licences. We now have 1540 breweries in the UK and many of them bottle their beers for sale at local outlets. We can also find in our shops many imported beers from Belgium, USA, Germany and as far afield as Australia. Every possible style of beer is marketed from Wheat Beers to Black Beers and from heavily hopped India Pale Ales to Belgian fruit beers. This led me to think about what sort of beers might have been available in the 1950's if one was to have visited an off-licence. My research has indicated that several of our most popular beers have been around for a long time. Here is my selection of some popular beers of the past which are readily available from local stores.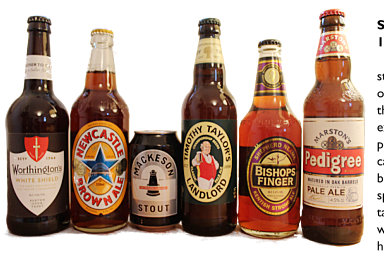 Newcastle Brown Ale 4.75% abv. (first brewed 1927)
This beer has a real cult following in the North East of England. It is now brewed in Tadcaster, North Yorkshire by Dutch brewers Heineken who took over Scottish & Newcastle Brewers in 2009. As one would expect it pours a copper brown colour and has a sweetish, toffee aroma. If you are used to drinking traditional English bitter then this beer comes as a bit of a shock as it is quite sweet and fizzy. It is also a rather thin beer which seems to lack body. This beer is exported to the USA, Australia and many other countries and is still one of Britain's best-selling bottled beers.
Shepherd Neame Bishops Finger Kentish Strong Ale 5.4% abv. (first brewed 1958)
Shepherd Neame are Britain's oldest brewer and have been continuously brewing in Faversham, Kent since 1698 and possibly even before that date. Bishop's Finger is a fine example of an English Strong Ale. It pours a chestnut colour and has a roasted, toffee aroma. It has a very rich taste of fruitcake and malt. Also available in cask at selected pubs.
Timothy Taylor Landlord Pale Ale 4.1% abv. (first brewed 1952)
This beer, in cask conditioned form, has won CAMRA's Champion Beer of Britain award no less than four times. This is not surprising as it is a fine example of a traditional Pale Ale. It pours an amber colour and has a citrus, leafy aroma. The taste is perfectly balanced with a rich fruit undertone. Taylors started brewing in 1858 and are still family owned and based in Keighley, West Yorkshire. This beer is available in cask at some pubs.
Marston's Pedigree Pale Ale 4.5% (first brewed 1952)
Marstons have been brewing in Burton on Trent since 1834. Pedigree is brewed in Burton Union fermenters which are a system of continuous wooden barrels. Pedigree pours a copper colour with a sweet aroma and has a well-balanced, slightly fruity taste. It is another good example of a traditional English Pale Ale. Pedigree is also available in cask at selected pubs.
Worthington White Shield 5.6% abv. (first brewed 1820)
This is a bottle conditioned strong beer which can claim to be one of the original India Pale Ales that were first brewed in C19 for export to India. White Shield IPA pours an amber colour and has a caramel aroma. This is a complex but balanced beer with fruits, spice, bread, caramel and raisin tastes coming through. It is made with Pale and Crystal malt and hopped with Fuggles, Challenger and Northdown hops. Worthington's were formed in 1761 and in 1926 they merged with another Burton brewer, Bass. In 2002 US brewers Coors purchased the Worthington brand and in 2005 they merged with Canadian brewers Molson to become Molson Coors.
Mackeson Stout 2.8% abv. (first brewed 1907)
It is difficult to imagine now that this low alcohol sweet stout was once one of Britain's biggest selling beers. Older readers may remember that it used to be advertised on TV by actor Bernard Miles who declared that it "looks good, tastes good and, by golly, it does you good". Nowadays brewers are no longer allowed to make health claims about their beers. Mackeson pours a very dark brownish black and has a slightly burnt aroma. It is sweet and malty with a chocolatey taste. Although it is low in alcohol it has a reasonable body and is quite a pleasant drink. Mackeson is now brewed by global giant AB-Inbev who took over Whitbreads in 2001. Whitbreads, in turn bought out Mackeson way back in 1929.
By
David Harris, Member of the British Guild of Beer Writers