Mild – The Beer that Time Forgot
Up until the 1960's Mild was one of the most popular beers in England representing about 50% of all beer sales in pubs. The term Mild originally referred to the age of the beer as Mild was a young (or mild tasting ) beer. Mild is primarily a dark, sweetish, malty, low alcohol beer. The term Mild also differentiates it from its hoppier rival, Bitter. In the 1970's lager began to take off and real ale lovers seemed to prefer drinking bitter. Mild had a bit of an image problem as an old persons drink and quickly lost favour. Mild is still popular in the West Midlands but is hard to find in the South of England. I know of only one pub in Emsworth (out of nine) that sells draft Mild.
Milds tended to be brewed between 3-4% abv. but some brewers are now producing stronger versions of this beer. I think it is a pity that this traditional English beer has gone out of favour and been replaced by paler, more bitter beers. Mild also goes well with traditional English meals such as casseroles and roast dinners. The smoothness of the beer compliments food whereas citrusy American style pale ales tend to clash with many flavours. Perhaps it is the name that puts people off and some clever marketing person might want to try and reinvent Mild with a new identity.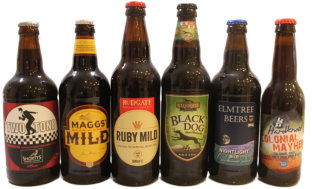 Here are a selection of bottled Milds that I have found in off-licences around the South of England. These beers can also be ordered via specialist beer websites. Milds should be served at cellar temperature (10º -12º C) and definitely not straight from the fridge.
West Berkshire Brewery Maggs Magnificent Mild 3.8%
This beer is almost black in colour and has a caramel toffee nose. This is a fine example of a traditional mild. The beer is slightly sweet with a smooth mouth feel and a hint of treacle in the flavour.West Berkshire Brewery were founded in 1995 at Yattendon, near Newbury and have a 50 barrel plant. They produce a range of cask and bottled beers which are available in the South of England
Shortts Farm Brewery Two Tone Dark Mild 3.8%
This is a dark brown brew with a chocolate aroma. This is not as sweet as some milds and reminded me a little of porter.
One could taste hints of chocolate and molasses. This could be a modern take on a dark mild. Shortts Farm were founded in 2012 on a family farm in Thorndon, Suffolk. They operate a 5 barrel plant and brew a range of cask and bottled beers.
Elmtree Beers Nightlight Mild
Weighing in at a mighty 5.7% abv this beer stretches the definition of a mild. It could be a black ale or even a porter. As you pour the beer a big foaming head is produced which takes some time to dissipate. The beer has a dark chocolate aroma and has a very smooth, bitter-sweet taste of very high quality dark chocolate with some liquorice. This is a beer for sipping after meal. Elmtree Beers are based in Snetterton, Norfolk where they have operated a 6 barrel plant since 2007. They produce a wide range of cask and bottled beers.
Elgoods Black Dog Traditional Dark Mild 3.6% abv.
This is a fine example of a Mild beer. It pours black and has a distinct caramel aroma. The beer is slightly sweet with a full, toffee taste. It is brewed with crystal malt and roast barley. English Fuggles hops are added, mainly to help preserve the beer. Elgoods brew at the North Brink Brewery, Wisbech, Cambridgeshire. The brewery was established in 1795 and has been owned by the Elgood family since 1878. Black Dog has won numerous awards as a champion Mild.
Rudgate Ruby Mild 4.4% abv.
This beer pours a ruby red colour and has a very malty aroma. The taste is quite dry compared with other milds and there is a pronounced nutty flavour with some dried fruit. This beer could be described as a Brown Ale. Rudgate started brewing in 1992 and are based in a village near York.
Hardknott Colonial Mayhem Colonial Mild 8.1% abv.
I picked up this curiosity in an off-licence in Guildford. Although it says "Mild" on the bottle this an "extreme" beer brewed by Hardknott who are based in Millom, Cumbria. This beer was brewed in collaboration with an Oregon, USA brewery. The beer is hopped with New Zealand hops which give it a fruity flavour. This is more of a Barley Wine or perhaps a Double Black IPA. It is quite a complex beer which is best appreciated as a nightcap.
Beer News
There are now 1540 breweries in the UK, including three within the Borough of Havant. This is double the number since 2009
Cask (Real Ale) accounts for 58% of all ale served in pubs. This market is worth £1.7 billion a year. 72% of pubs in the UK sell cask ale. To find your local real ale pub go to https://whatpub.com which lists around 36,000 pubs.
The number of pub closures has fallen to 21 a week with many former pubs becoming convenience stores.
The average price of a pint of beer in the UK is £3.47 although there are wide regional differences. Hampshire is seen as an average price area. For a cheap pint try Yorkshire or Derbyshire. Don't expect to get much change from £4 if you order a pint in Surrey or London.
The best-selling lagers in the UK are: Stella Artois, Peroni and San Miguel.
By
David Harris, Member of the British Guild of Beer Writers