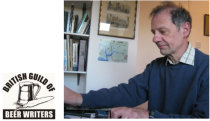 Felinfoel brewery has its origins at the Kings Head pub, Felinfoel, Llanelli in the 1830s. Like many pubs of the time, it brewed its own beer which was very popular locally. In 1878 the owners decided to build a brewery near the pub which is still producing beer. It is family owned and is the oldest Welsh brewery. The brewery has over 80 pubs in South West Wales and also supply to around 350 outlets. Felinfoel were the first every brewery to can beer back in 1935. Tinplate was a major industry in the area and the brewer felt that it would be beneficial to the local steel industry to be making cans for the brewery. Today we have a seen a move towards cans led by new craft brewers but Felinfoel were the real pioneers.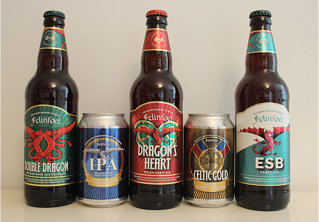 I have been sampling some of their beers, including some in cans. Here are my tasting notes.
Felinfoel ESB Bitter Craft Ale 4.6% abv.
This is slightly sweeter that an average bitter. It is amber in colour with a balanced toffee apple taste. ESB stands for Extra Special Bitter and usually indicates a stronger beer in the 5-6% abv range. However in this case the brewery is calling this brew ESB to distinguish it from its other bitters.
Felinfoel Double Dragon 4.2% abv.
This is a deep copper red ale with a nutty, toffee, leafy bitter taste. I thought this was more of a conventional bitter.
Felinfoel Celtic Gold Lager 4.8% abv.
I would like to see more craft breweries having a go at brewing their own lager. The heavily advertised big brands dominate the market but they are all rather bland. This light gold lager has a clean, dry, bitter taste and was far superior in flavour to the industrially produced lagers.
Felinfoel Dragon's Heart 4.2% abv.
This is another ruby coloured bitter beer which was not dissimilar to Double Dragon.
Felinfoel IPA 3.6% abv.
This is a dark golden beer with a slightly citrusy bitter taste.
Beer Facts and Figures
Decline in the number of pubs in the UK has finally halted. There are around 38,000 pubs in the UK in 2019, which is up by 320 from 2018.
Many new pubs are what are known as micropubs. These are small, one room beer houses which sell cask ale but don't do food or offer any entertainment. There are a couple of these in Chichester.
Total beer sales in the UK are stable at 45 million hectolitres or 7,920 million pints. That is 120 pints per year for every person in the country.
Lager continues to be our most popular style of beer, accounting for 76% of all beer sales.
We now drink most of our beer at home. Only 46% of beer is drunk in pubs, restaurants and other licenced premises. In 2000 we drank 67% of beer in licenced premises.
No/low alcohol beers now account for 0.7% of beer sales. This is one category that is likely to increase. These beers are no more that 1.2% abv.
21% of the beer we drink is imported but only 12% of UK beer production is exported.
Most of our beer imports come from: Ireland (Guinness), Italy (Peroni) and Netherlands (Heineken)
Our main beer export markets are: France, Ireland and the USA.
Cider is starting to decline in popularity. Cider has boomed since 2000 but sales are down from its peak in 2009.
Each person aged 15+ in the UK spends on average £981 a year on alcoholic drinks. 36% is on beer, 28% on spirits and 36% on wine.
The average pub price of a pint of bitter in the UK is £3.08. The average price of lager is £3.70. There are considerable regional variations with beer often costing more than £5 a pint in London.
The government collects £20.9 billion a year in Duty and VAT on alcoholic drinks.
The UK has one of the highest rates of duty on beer of any European country. A pint of 5% abv beer attracts duty of £0.54.
There are nearly 2 million people employed in the pub, restaurant and hotel industry in the UK. This figure has doubled since 1990.
The leading beer drinking countries in Europe, by annual consumption per person, are: Czech Republic (138 litres), Ireland (127 litres) Austria (105 litres) and Germany (101 litres)
The biggest beer producing country in the world is China who brew 440 million hectolitres a year.
Source: Statistical Handbook 2019 (ed. Paul Oakley) British Beer & Pub Association
By
David Harris, Member of the British Guild of Beer Writers - Email: mydogisfinn@gmail.com