Enjoy Elgood's Beer
Beer has been brewed at the North Brink Brewery in Wisbech, Cambridgeshire since 1795. Elgood's took it over in 1878 and the brewery is now run by 5th generation of the Elgood family. They operate 30 pubs in the local area and supply a large number of Free Houses. They brew Bitter, Golden Ale, Mild and Porter which are all available from the cask. There is a wide range of bottled beers including some naturally fermented sour beers, a style which is more usually associated with Belgian breweries. Wisbech is known as the capital of The Fens and has a population of 31,573. It is an inland port on the River Nene and is 10 miles from the sea.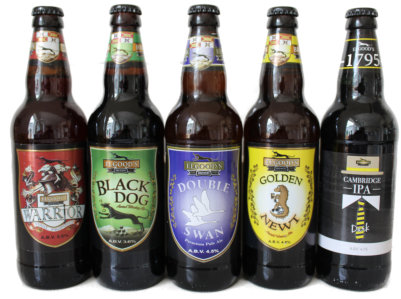 Elgood's are amongst a small number of breweries that were founded before 1800 and are still brewing today. The others are: Hall and Woodhouse, Blandford Forum, Dorset (1777); Harveys, Lewes, East Sussex (1790); Palmers, Bridport, Dorset (1794); Shepherd Neame, Faversham, Kent (1698); Samuel Smith, Tadcaster, Yorkshire (1758); Greene King, Bury St Edmunds, Suffolk (1799).
Elgoods Cambridge Dark IPA 4.7% abv
This is a new style of beer in that an IPA (India Pale Ale) is normally pale in colour. This beer pours almost black due to the addition of roast barley. It has a fruity aroma and a smooth roasted tasted. This is something of a hybrid beer, not quite a stout but more than a bitter.
Elgood's Warrior Bitter 5.5% abv
This ruby ale has a full-on bitter flavour. It has a chewy mouthfeel with a tobacco/grassy flavour coming through. A fine example of a traditional English beer.
It is hopped with English varieties such as Challenger, Goldings and Fuggles.
Elgood's Golden Newt Golden Ale 4.6% abv
Golden ales are a lighter style of beer aimed at the lager drinker who wants to try something with a bit more flavour. It pours a golden colour with a slight vanilla aroma. It is a clean, dry, refreshing drink with a biscuity taste.
Elgood's Black Dog Dark Mild 3.6% abv
It is good to see this traditional style of English beer being brewed outside of the West Midlands. Mild used to be the most popular style of beer up until the 1950s but was squeezed out by the growth of lager and the tendency for Real Ale enthusiasts to stick to bitter. The beer pours a dark ruby colour with a caramel aroma. It is comparatively sweet, very smooth drinking with liquorice and chocolate flavours coming through.
Elgood's Double Swan Premium Pale Ale 4.5% abv
This is a golden coloured pale ale with a citrus aroma. It is a very well balanced beer with both fruity flavours and bitterness being prevalent.
All of these beers plus their innovate range of sour and fruit beers are available by mail order. Minimum order to qualify for free postage is only 8 bottles and prices are very reasonable for such good quality beer, with 500 ml. bottles starting at £2.15.
https://www.elgoods-brewery.co.uk
Champion Beers of Britain 2019
The Great British Beer Festival was held in August and the results of the Champion Beers of Britain have been announced. Judges sampled hundreds of different craft beers in order to come up with this list of prize winners. These beers should now be available in specialist bottle shops and online suppliers or direct from the brewery.
Supreme Champion
Gold: Shere Drop, Surrey Hills Brewery, Dorking, Surrey.
Silver: Afghan Pale, Grey Trees Brewery, Aberaman, Wales
Bronze: Citra, Oakham Ales, Peterborough
Mild
Gold: Gravediggers, Church End Brewery, Ridge Lane, Warwickshire
Silver: Malt Shovel Mild, Fernandes Brewery, Wakefield, Yorks,
Bronze: Maggs Magnificent Mild, West Berkshire Brewery, Yattendon, Berks
Bitter
Gold: Ay Up, Dancing Duck Brewery, Derby
Silver: Hobby Horse, Rhymney Brewery, Blaenavaon, Wales
Joint Bronze: Edith Cavell, Wolf Brewery, Besthorpe, Norfolk
Laughing Gravy, Ulverston Brewing Company, Cumbria.
Best Bitter
Gold: Shere Drop, Surrey Hills Brewery, Dorking, Surrey.
Silver: Trawler Boys, Green Jack Brewery, Lowestoft, Suffolk
Joint Bronze: Preservation Fine Ale, Castle Rock Brewery, Nottingham
Darwin's Origin, Salopian Brewery, Hadnall, Shropshire
Strong Bitter
Gold: Afghan IPA, Grey Trees Brewery, Aberaman, Wales
Silver: Iron Duke, Irving, Portsmouth.
Bronze: Fallen Angel, Church End Brewery, Warwickshire.
Golden
Gold: Citra, Oakham Ales, Peterborough
Silver: Pale, Five Points Brewing,London
Joint Bronze: Heart & Soul, Vocation Brewery, Hebden Bridge, Yorks.
Prince Bishop Ale, Big Lamp Brewery, Newcastle upon Tyne.
Speciality Beers
Gold: Vanilla Stout, Binghams Brewery, Ruscombe, Berkshire
Silver: Chocolate Guerilla, Blue Monkey Brewery, Giltbrook, Notts
Bronze: Brazillian Coffee & Vanilla Porter, Colchester Brewery, West Colne, Essex.