Enjoy Harvey's of Lewes and Foolproof of Pawtucket
Harvey's were formed in Lewes, East Sussex in 1789 and have been brewing for 230 years. According to CAMRA's Good Pub Guide 2019, East Sussex is the home of 26 breweries, including six brewpubs. Over half of the breweries were established since 2010 with only two breweries going back to the 1990s and two to the 1980s.
Harvey's are a family owned business. They brew a very wide range of beers; cask conditioned which are available in their 45 pubs and bottled beers. They also supply a large number of pubs in London and SE England. On tap you can get Mild, IPA, Best Bitter and Old Ale.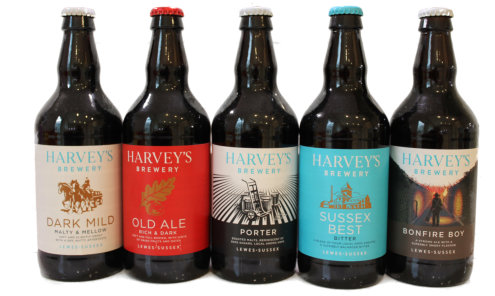 Harvey's Porter 4.8% abv
This beer is brewed to an original recipe of 1859. Porter and stout are now inter-changeable terms but originally stout was a term to describe a strong porter. This black beer is slightly sweet and not unlike a strong dark mild or perhaps a brown ale. There is not as much of a roasted taste as you would expect from a stout. Liquorice and nut flavours came through.
Harvey's Dark Mild 2.8% abv
Mild is hard to find outside of the West Midlands, yet in the decade after the Second World War it accounted for 75% of all beer consumption. Mild was squeezed out by newcomer lager and bitter which was the preferred drink of the real ale fraternity. Mild was perceived as an old man's drink and vanished from many pubs. This beer pours a very dark brown and is slightly sweet. It is the ultimate session beer at only 2.8%.
Harvey's Sussex Best Bitter 4% abv
This is their flagship beer and is a very good example of the traditional English bitter. It is amber in colour with a leafy aroma. It is distinctly bitter with bready and grassy flavours. This would taste even better straight from the cask.
Harvey's Old Ale 3.6% abv
I tend to think of Old Ales as being stronger, winter style beers but this is still a very fine ale.  It pours a dark ruby colour and has a very rich dried fruit flavour. This is a traditional beer which you will not see offered that much but is worth seeking out.  
I like all the dark, malt forward styles of beer that are associated with traditional English brewing.
Harvey's Bonfire Boy Strong Ale 5.8% abv
The term strong ale is used to cover a range of styles of beer which are brewed outside of the normal range for other beer styles.  It is a dark amber colour with a burnt, smoky, toffee, peaty taste. It was brewed to commemorate the Lewis Bonfire Festival which is held on 5 November.
Harvey's beers can be obtained in person or by mail order from:
Harvey's Brewery Shop, 6 Cliffe High Street, Lewes, East Sussex BN7 2AH
Tel 01273 480217 Email: shop@harveys.org.uk   www.harveys.org.uk
Foolproof Brewing Co, Pawtucket, Rhode Island, USA
Foolproof started brewing in 2012.  They are based in Pawtucket, a town in Rhode Island which is on the east coast of the USA, to the south of Boston. They brew a wide range of beers, most of which are available in 12 oz. (355 ml.) cans.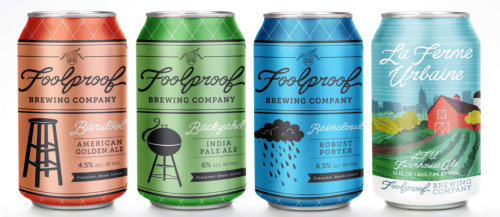 Foolproof Backyahd IPA, 6% abv
This golden ale has a very deep citrusy/tropical fruit flavour.  "Backyahd" apparently is how the locals pronounce "Backyard" which is where the brewers suggest you should drink this most flavoursome brew.
Foolproof Barstool American Golden Ale 4.5% abv
I really liked this rich butterscotch and caramel tasting beer.  It was very smooth and made for very easy drinking.
Foolproof Raincloud Robust Porter 6.8% abv
A wonderfully smooth, rich chocolatey/caramel tasting porter.  This would go well with barbequed meats.  A very full flavour that makes one want to sip the beer slowly.
Foolproof La Ferme Urbaine Farmhouse Ale 7.8% abv
This is a Belgian style farmhouse ale made with Barley, Wheat, Rye, Oats and Spelt. It has a dry, spicy, yeasty flavour.  I would drink this slowly after a meal, perhaps with some cheese.
Foolproof beers can be bought online from Beers of Europe. www.beersofeurope.co.uk
Foolproof are distributed to the trade in the UK by Heathwick.  www.heathwick.com   Thanks to Heathwick and Lotte Peplow PR for supplying me with the above beers.
By:
David Harris, Member of the British Guild of Beer Writers - Email: mydogisfinn@gmail.com