Enjoy Sussex Beers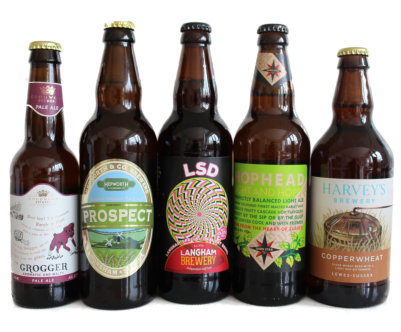 East and West Sussex have between them 53 breweries including seven brewpubs. That is pubs that brew their own beer on the premises. Most have opened in the last 10 years but amongst them is Harvey's of Lewes who have been brewing since 1790. You should be able to find a good selection of Sussex beers at your local Coop, independent off-licences and specialist bottle shops. West Sussex includes towns such as Chichester, Worthing, Horsham, Crawley and Bognor Regis. The total population is 852,000. East Sussex which stretches along the south coast from Brighton to Rye has a population of 840,000 and includes Brighton and Hove, Hastings, Eastbourne and Lewes. Many Sussex breweries are in rural locations where farm buildings provide an ideal site for a small brewery.
Here are my tasting notes on some fine Sussex beers that I have bought recently from local shops.
Dark Star Hophead Light Ale 3.8% abv
Dark Star were formed in 1994 at the Evening Star pub in Brighton and then moved to Partridge Green, West Sussex in 2010. They were taken over by London based Fuller's in 2018 who themselves have recently been taken over by the Japanese Asahi group. Dark Star were named after a song by the legendary American rock group, Grateful Dead. Dark Star produce a wide range of cask and bottled beers including IPA, Porter, Brown Ale, Imperial Stout and Lager. Hophead pours a straw colour with a grapefruit aroma. It is flavoured with Cascade hops and has quite a citrusy flavour.
Langham Brewery Langham Special Draught LSD 5.2% abv
Langham were established in 2006 and are based on the Cowdray estate in an old granary barn near Lodsworth, West Sussex. They offer a wide range of cask and bottled beers including Blonde, Saison, Best Bitter, Red Ale, Mild, Porter and a black IPA. Their beers are available at over 200 outlets in the South of England. This is a fine balanced ale with a spicy hop aroma. It pours a rich auburn colour.
Hepworth Prospect Organic Pale Ale 4.5% abv
Hepworth started up in 2001 in Horsham but moved to North Heath, near Billingshurst, West Sussex in 2016. This is an organic brewery who have an extensive range of beers including lager, IPA, Blonde, Stout, Bitter and Barley Wine. Beers are available from the cask at selected outlets or in bottles from local shops.
This bottle conditioned ale pours a golden colour and has a bitter orange aroma. A slightly tart taste but still a good bitter ale.
Harvey's Copperwheat Wheat Beer 4.8% abv
They are one of Britain's oldest breweries being founded in Lewes in 1790. Harvey's are still a private family owned business with five family members currently working for the brewery. They bought the Bridge Wharf, Lewes, site in 1838 and having been brewing there ever since. They brew a very wide range of beers, both cask conditioned which are available in their 45 pubs, and bottled beers. They also supply a large number of pubs in London and SE England. On tap you can get Mild, IPA, Best Bitter and Old Ale. Copperwheat is very different from the Belgian and German wheat beers. I thought it was more like a golden ale and had a distinctly hoppy taste.
Goodwood Brewery Grogger Pale Ale 4.5% abv
Beer has been brewed at Goodwood since 1738. This an organic beer. Goodwood also offer a lager and American Pale Ale. Their beers are available in cask, keg or bottles and are served at the various outlets on the Goodwood Estate. You should be able to buy Goodwood beers at many local shops. Grogger pours a dark golden colour with an orangey aroma. It has a fine balanced taste and is a good example of an English bitter.
Beer News
The Great British Beer Festival (GBBF) will be held at Olympia, London from 6 -10 August. It is organised by CAMRA and is the biggest beer event in the UK.
There will be over 1000 beers on offer from 400+ breweries. There are plenty of food stalls, talks and entertainment. It is a massive event and every beer lover should go at least once in their lives. The opening hours are:
Tuesday 6th August – 12 noon-5 pm (Trade Session)
Tuesday 6th August – 5 pm-10:30 pm (Public Session)
Wednesday 7th August – 12 noon-10:30 pm
Thursday 8th August – 12 noon-10:30 pm
Friday 9th August – 12 noon-10:30 pm
Saturday 10th August – 11am-7:00 pm
Last Admission: half an hour before close.
You can travel to Olympia by train from Havant (change at Clapham Junction). The journey time is around two hours. For more information and to buy tickets (£11 Tues – Fri and £9 Sat) https://gbbf.org.uk/
By
David Harris, Member of the British Guild of Beer Writers - Email: mydogisfinn@gmail.com