Enjoy Hampshire Beers

Hampshire has thirty-nine breweries according to CAMRA's Good Beer Guide 2019. Of these, eight are brewpubs; that is pubs that brew on the premises. Hampshire is the seventh largest county in England and has a population of 1.84 million. Wherever you live in Hampshire you are not going to be far from a craft brewery. Your local pubs, off licences and convenience stores should all stock a good range of local ales. I have been out beer shopping recently at Southwick Brewhouse, which is a specialist beer shop and brewery museum located at the rear of the Golden Lion pub in the picturesque village of Southwick. The village is located just off the B 2177 between Havant and Wickham. Here are a selection of some fine Hampshire beers that I have recently tried.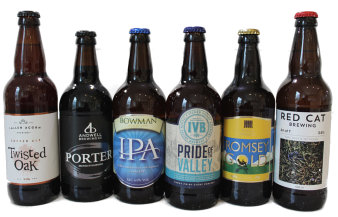 Fallen Acorn Twisted Oak Copper Ale 4% abv.
Fallen Acorn brewery are based in Gosport and were formed in 2016 when they took over Oakleaf Brewery. Twisted Oak pours a copper colour and has a toffee, caramel and fruity flavour. It is a good balanced bitter which is also available as a cask beer in local pubs. Fallen Acorn also brew an IPA, Amber Ale, Golden Ale and Black Ale as regular session ales. Their specialist range includes Brown Ale, Mild, Stout, Rye and Saison. Brewery tours are available.
Flack Manor Romsey Gold 4.5% avb.
Flack Manor started up in 2010 in Romsey. Romsey Gold is a golden ale with a floral aroma and a spicy orange flavour. This is a very refreshing summer beer which is also available as a cask ale. They brew around a dozen traditional ales using the "Double Drop" system. Brewery tours may be booked.
Itchen Valley Brewery Pride of the Valley Bitter 3.8% abv.
Itchen Valley are located in Alresford and started brewing back in 1997. They supply over 350 pubs. Pride of the Valley is a hazel coloured beer with a toffee aroma and a complex flavour of orange, coffee and honey. They brew a range of gold, amber and bitter ales.
Red Cat Art of T Earl Grey and Tettnang dry hopped beer with tea 3.6% abv.
They are based in Winchester and opened up in 2014. This speciality beer pours a golden colour with a big head. It has a herbal aroma with dry lemon taste. It is flavoured with seven different hops including German Tettnang hops and Earl Grey tea. This is also available as a cask ale in local pubs. They brew a range of IPAs, stouts and golden ale. They have a small shop and bar. Brewery visits are available.
Andwells Brewing Porter 5.2% abv.
Andwell started brewing in 2008. They are located in the village of Andwell which is mid-way between Basingstoke and Hook in the north of the county. They brew lager as well as bitter, golden ales and porter. Visits can be arranged and they have an on-site shop. Porter pours jet black with a black treacle aroma. This is a full on beer with a roasted, liquorice and chocolate flavour. This is a beer to sip slowly and really appreciate its richness. It is unfiltered and bottle conditioned.
Bowman IPA 6% abv.
Bowman are based in Droxford in the Meon Valley where they have been brewing since 2006. This IPA pours a golden colour with a fruity aroma. It has a big orange marmalade and melon taste. At 6% abv. this is a strong beer which should be drunk slowly to appreciate its full flavour. Bowman brew a range of bitter beers and also brew the Suthwyk Ale range of beers.
Beer news
There are around 39,000 pubs in the UK, down from 60,000 in 2000. The rate of closure of pubs seems to be in decline with only 14 pubs closing each week as opposed to eighteen closures a week in the previous year. There are 1,750 breweries in the UK, many of which are very small. There has been a tremendous growth in the number of breweries in the UK but it looks as if this growth has begun to slow down. In 1970 there were only 190 breweries in the UK.
Fuller's brewery who own many pubs in the SE Hants area have sold their brewing interests to the Japanese firm Asahi for £250 million. In 2005 Fullers bought the much loved local brewers Gales of Horndean. Fullers also bought Sussex brewers Dark Star in 2018. Fullers will continue to run their pubs which will now be supplied by Asahi. This Japanese firm was formed in 1889 and also owns the Grolsch, Peroni and Meantime brands.