Hail the Pale Ale!
One of the most popular styles of craft beer available in the UK today is Pale Ale, which is sometimes described as India Pale Ale (IPA), if it is stronger in alcohol. Traditionally a Pale Ale was an English style of amber beer which was brewed with English hops. Pale Ales were often seen as bottled versions of draft Bitter. In the USA a new style of beer began to appear in the 1980s. This was a Pale Ale flavoured with hops from the West Coast of the USA, particularly Cascade, Centennial, Chinook, Citra and Columbus hops. These hops impart a very distinct citrus flavour which can give beers a grapefruity taste.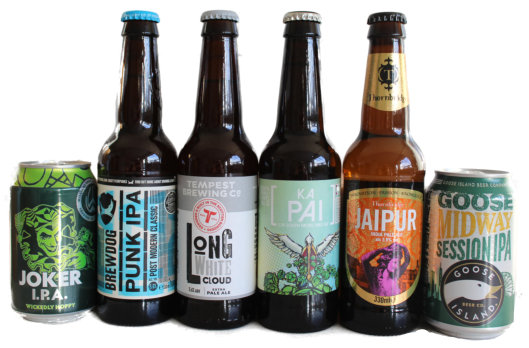 Previously, Americans had very little to choose from in the beer market and these flavoursome pale ales converted many lager drinkers. The craft beer revolution took off in the USA with many small breweries offering their own interpretations of this new type of Pale Ale. It was not too long before some British craft brewers started using US hops. Almost every British craft brewer has at least one heavily hopped US style beer on offer. There are also a number of sub-species of Pale Ale including New England IPA, Pacific Pale Ale and American Pale Ale. Here are a few Pale Ales that I have tried recently. You can find a range of Pale Ales in most supermarkets, off licences and specialist bottle shops.
Goose Island Midway Session IPA 4.1% abv.
Goose Island were one of the founding fathers of the US craft beer scene when they started up in 1988 in Chicago. In 2011 they were acquired by global giants AB Inbev and this particular beer is now brewed in Belgium for the European market. This beer is widely available. Midway pours a golden colour with a fruity aroma. It has a clean, crisp, citrus flavour and at 4.1% would make the ideal session beer.
Williams Bros Brewing Joker IPA 5% abv.
This is a Scottish brewery based in Alloa who were formed in 1988. They brew a wide range of beers including a Heather Ale. This brew pours a dark golden colour. The flavour is more balanced than many Pale Ales and nowhere near as astringent.
Brewdog Punk IPA 5.6 % abv.
One of the best know names in the UK craft beer scene, Brewdog started in 2007 in Scotland and now own a large number of bars across the UK and other countries. They have recently opened a brewery in the USA. This is one of Britain's best-selling craft beers and it is not hard to see why. It has a full on tropical fruit, grapefruit and pineapple flavour. This beer is far removed from bland lagers and lives up to its punk reputation.
Stewart Brewing Ka Pai South Pacific Pale Ale 5.2% abv.
Based near Edinburgh they started up in 2004. This beer is a variation on the Pale Ale theme in that it uses hops from New Zealand, hence the South Pacific name. The flavour is of tropical fruits such as mango and lychees.
Tempest Brewing Company Long White Cloud Extra Pale Ale 5.6% abv.
They were formed in the Borders area in 2010. This is another New Zealand/Pacific style beer which uses Nelson Sauvin, Motueka, and Raku hops which impart a mixed tropical fruit flavour. The beer is quite aromatic with hints of mango and apricot.
Thornbridge Jaipur India Pale Ale 5.9% abv.
This Peak District brewery started up in 2005. They brew a very wide range of beers and are constantly adding new lines. Thornbridge were one of the first craft breweries that drew my attention. I was very impressed with the wide range of beers they had on offer in an off licence I visited whilst holidaying in the Peak District. I have tried many of their beers and never been disappointed. Jaipur is one of their earlier brews and has won over 100 awards. It has a fine citrus and pineapple flavour and is widely available. Thornbridge also offer a mail order service.
By
David Harris, Member of the British Guild of Beer Writers - Email: mydogisfinn@gmail.com