Belgian Beers
Belgium is a small country with a population of only 11.2 million. Many people pass through Belgium on their way to the Netherlands, Germany or Scandinavia but never stop to appreciate the splendid medieval architecture of Flemish cites such as Bruges and Ghent. Another thing they are missing out on is the wonderful Belgian beer. The craft beer revival which started in the USA in the 1980's has spread to many countries. In Belgium they claim the whole craft brewing concept was never lost and they have been continuously brewing a wide range of distinctive artisanal beers for hundreds of years. My interest in beer began many years ago when on holiday in Belgium. I was intrigued by the vast range of styles of beer available in supermarkets and began trying the many different brews. There are around 180 different breweries in Belgium many of whom make very distinctive local beers. I have been sampling some of the many Belgian beers that are available in the UK are here are a few of my recommendations.
Smiske Bruin Nature Ale 7% abv.
This is a bottle fermented (Real ale) Brown ale which pours a cloudy mid brown colour. The aroma reminds one of malt drinks. It is a smooth tasting beer despite being quite high in alcohol with almost a cappuccino type taste. Very different from the old fashioned British brown ales, if you can still find them. It is made by Smiske Brewery who are a small family business based near Oudenaarde which is to the south of Ghent.
Dupont Saison 6.5% abv.
Saisons are beers that were originally brewed in farmhouses in the winter. The beer was then used throughout the year for farmworkers. The style is By David Harris, Member of the British Guild of Beer Writers Belgian Beers now used to denote a traditional beer from the Hainault region of Belgium. It pours a cloudy golden colour and has a grassy aroma. The taste is slightly tart which makes it a very refreshing beer. Dupont have been brewing Saison since 1844 at Tourpes which is also to the south of Ghent.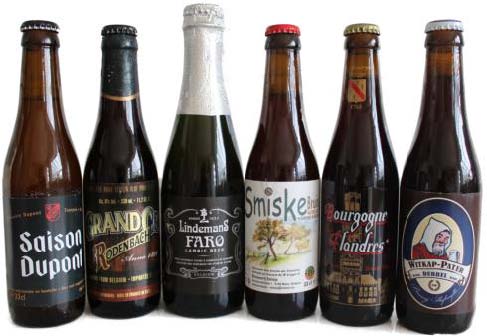 Lindemans Faro Lambic 4.5% abv.
This is something for the person who wants to try a beer that is really different. For a start it is naturally fermented with wild yeasts and is barrel aged. It was only in the latter part of the C19 that scientists were able to isolate yeast and develop strains specifically for brewing. Prior to then all beer was naturally fermented by the wild yeasts that are in the air. Faro pours a copper colour and has a slightly lemon aroma. The mouth feel is somewhere between cider and wine with a very tart acidic flavour. This is a very refreshing drink but not one for conservative beer drinkers. Lindemans have been brewing traditional lambic beers since 1822 at their Vlezenbeek brewery which is to the southwest of Brussels.
Witkap Pater Dubbel Bruin 7% abv.
This is a strong Belgian Brown Abbey style bottle conditioned beer. It pours a cloudy mid brown colour with a malty aroma. It has a yeasty caramel flavour and a creamy consistency. Apparently it goes well with Belgian chocolate desserts. It is brewed by the Slaghmuylder Brewery at Ninove, which is west of Brussels. This family run business has been brewing since 1860.
Rodenbach Grand Cru 6% abv.
Rodenbach is a Flanders Sour Red beer. This is a barrel aged beer and it is made up of 2/3rd beer matured for two years in massive oak barrels and 1/3rd new beer. It pours a rich ruby colour and has a tart green apple aroma. The beer has a somewhat acetic flavour and many would consider it quite sour but it is a complex drink with subtle flavours coming from the barrel ageing. Rodenbach is a very refreshing drink once you get used to the initial sour taste. Many beer critics rate this as one of the great beers of all time. It is brewed in Roeselare which is south of Bruges. It is owned by the Belgian Palm brewery group.
Bourgogne des Flandres Brown/Lambic mix 5% abv.
This is a mixture of Belgian Brown ale and naturally fermented lambic beer. It pours a dark copper colour with a caramel aroma. The taste is complex, sweet and sour with a cherry undertone. This is quite tart but not as sour as the lambic beers. This is another very refreshing beer. It is brewed by Timmermans Brewery at Itterbeek near Brussels. The Oakleaf Brewery, Gosport has gone into administration. This was quite a large brewery who had a brewery tap/shop in Gosport and also owned two pubs in Portsmouth. They were founded in 2000 and brewed a very wide range of cask and bottled beers. I enjoyed their beers particularly their IPA which I reviewed for Postcode Publications in September 2015.
The Great British Beer Festival (GBBF) 2016 was held at Olympia, London in August. I attended the Press Day and was very impressed with the event. There were 27 bars offering over 900 different beers including some from USA, Belgium, Germany, France and even Malta. If you like trying different beers then the 2017. GBBF will be held at Olympia from 8 -12 August 2017. The overall winner at GBBF 2016 was Binghams Vanilla Stout which is brewed in Berkshire.
We are likely to see more American beers in our shops and specialist bars in the future. At present the UK is a net exporter of beer to the US with exports at over 191 million pints compared with imports of only 14 Million pints. I recently attended a beer and food pairing event in London organised by the US Brewers Association and was very impressed by the range of beers offered. Gose, Kolsch, Saison, Black Lager, Alt and a massive 12% abv. Imperial Stout were just a few of the amazing US brewed beers that were sampled. Although many British breweries are now offering heavily hopped US style Pale Ales with their distinct citrus flavours, US brewers offer a far wider range of styles and strengths of beer than we get in the UK. We may have over 1600 craft breweries but many are only brewing a limited range of bitter/golden/IPA styles. If, like me, you enjoy trying new styles of beer then look out for US brands such as Sierra Nevada and Harpoon which are currently available in the UK.
By
David Harris, Member of the British Guild of Beer Writers