Havant tried anything quite as good!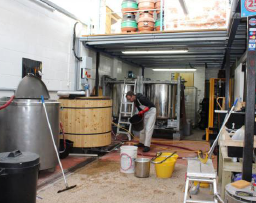 The latest edition of Camra's Good Beer Guide 2016 shows that there are now over 1400 breweries in the UK, the highest number since the 1930's. There has been a huge upsurge in brewery start-ups over the last 10 years. Here in Havant our own Havant Brewery was founded back in 2009 and in 2013 they moved to industrial premises on The Tanneries Industrial Estate, Havant. They operate a 5 barrel brewery producing 3 regular cask conditioned real ales which are available at 6 local pubs and clubs. Their beers also appear as guest ales at over 20 pubs.
Havant Brewery was founded by Cowplain resident Mike Charlton who runs the business with his wife Caroline. They have recently recruited Ben Sharman who will assist them in the brewing. Mike started as a home brewer and purchased his first one barrel plant in 2009 which he operated from his garage. The beers went well and he won Hampshire Beer of the Year in his first year of commercial production.
Mike brews a number of speciality beers all with delightful punning titles. When I visited he was offering "Havant Converted" a multi-grain beer brewed to celebrate the 2015 Rugby World Cup. Cask conditioned ales represent about 70% of the brewery's output. Their bottled beers are available directly from the brewery shop and from a number of local outlets. I have been sampling a few of Havant Breweries bottled conditioned beers.
Havant Finished 5% abv. Extra Special Bitter (ESB)
This is a very rounded beer with coffee and caramel flavours. It is quite malt forward and is hopped with Goldings and Fuggles hops. It has a toasty aroma and has a rich copper colour. A good example of a strong bitter which would go well with a roast dinner, grilled meats or sausages.
Havant Dropped 3.8% abv. Irish Red
Irish Red was a style of beer popular in Ireland and taken up by American micro brewers. It is now offered by a number of British small breweries. It has a dark copper colour and is a smooth tasting malty beer. There is a slight rosehip aroma when first poured.
Havant This 'n That 4.6% abv. Stout/bitter blend
Up until the 1970's it was not uncommon for pub drinkers to ask for a mix of beers. Mild and bitter, mild and bottled brown ale and other combinations of half pints could be ordered and combined in a pint glass. The rise of lager drinking from the mid 1970's polarised pub drinkers between those who wanted pure real ales and those who drank lager. Milds, brown ales and beer mixtures seem to die out. This offering from Havant is a dark, smooth sweet tasting beer. It reminded me of a porter in that it is dark but not unduly bitter or burnt tasting like an Irish stout.
Havant Started 4% Best Bitter
It pours with a big creamy head and is a lovely golden orange colour. Quite a citrus taste due to the use of American as well as British hops. I thought this was rather like a lower alcohol India Pale Ale (IPA). It is a good session beer and would go well with spicy foods.
Havant Decided 3.8% Pale Ale
A pale golden coloured beer with a floral bouquet. Another good session beer or one that would go well with most dishes.
Havant Herd 4.2% Sweet Stout
Sweet or Milk stouts were once very popular drinks, especially amongst women and older people. This beer has lactose (milk sugar) added which gives it a sweet but not cloying taste. It has a velvety consistency.
Havant Brewery, Unit 25, The Tanneries, Brockhampton Lane, Havant, PO9 1JB Tel 023 92 476067 Email: info@thehavantbrewery.co.uk www.thehavant brewery.co.uk