With the amount of different wines, beers and spirits on the market today, it's easy to go overboard and splash out of products that may not fit your tastes.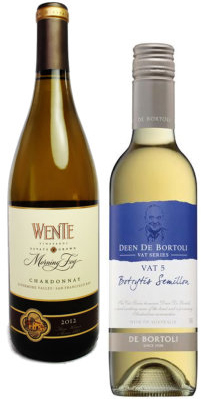 When it comes to wine with your Christmas day feast you can take it to a whole new level of 'amazingness' (not actually a word but you know what I mean) by drinking wines paired perfectly with the food. Ernest Hemmingway once said "In Europe we thought of wine as something as healthy and normal as food and also a great giver of happiness and well being and delight. Drinking wine was not a snobbism, nor a sign of sophistication, nor a cult; it was as natural as eating and to me as necessary."
Its all about matching the flavours of the wine with the flavours of the food. You don't want a wine that's going to overpower the food or a wine that's going to destroy the flavours of the food. Think about the flavours of every component of your meal especially sauces and gravy.
If you are having a starter, typically something fishy like salmon, either smoked or fresh or prawns, then a nice crisp white pairs perfectly. Sauvignon Blanc springs to mind with its fresh crisp acidity and citrus, gooseberry characters. New Zealand is the land of Sauvignon Blanc and they produce wines with intense characters and biting acidity. If you prefer it a bit more refined and delicate then head to the Loire Valley and try a Sancerre, Pouilly Fume or Touraine Sauvignon. They still have the lovely fresh crisp characters but tend to be a bit more elegant with less acidity.
Turkey tends to be the choice of nation for the Christmas feast and softer whites are perfect. My love affair of Chardonnay has returned with a vengeance. We used to drink this by the gallon fifteen years ago but our tastes for the heavily oaked whites changed and sales dropped. It's now coming back as producers are using less oak to mature their wines. California is the place to seek out quality driven Chardonnays' which are full bodied, creamy with soft vanilla characters. Burgundy on the other hand is the home of Chardonnay and produces lighter bodied wines with more green fruit characters. If you want red with your turkey, then stick to lighter reds like Pinot Noir. These won't overpower the flavours of the meal and will balance nicely. For game like goose you need a heavier drier red. Bordeaux reds suit nicely which use Cabernet Sauvignon and Merlot grapes or Cotes du Rhone which is made mainly from Shiraz. These wines will supply the weight you need to balance with the heavier meat flavours.
Christmas pudding, my all time favourite, requires a big rich sweet white to cut through the intense cooked fruit flavours. These wines finish the meal off nicely and can be savoured and enjoyed.
Here is a selection of some favourites of mine from The General Wine Company
www.thegeneralwine.co.uk Liphook Shop - 01428 727744, Petersfield Shop - 01730 235923
Wente Morning Fog Chardonnay California £11.59
Full of vanilla and creamy butter characters with a hint of citrus on the finish.
De Bortoli - VAT 5 Botrytis Half £8.99
Full of rich apricot, marmalade and lemon fruit. Lovely delicate flavours with a rich finish.
Christian Lauverjat - Sancerre Blanc Vrillieres £14.99
Racy and fresh with a delicate citrus flavour and a lot of finesse on the finish.
Pierre Plouzeau - Touraine Sauvignon Blanc £8.99 - Lots of fresh lively characters including lemon, lime and melon fruit.
Helene Perrot - Petit Chablis £12.69
Mellow and soft but with much more green apple and pear characters.
Les Fontanelles - Pays 'Oc Pinot Noir £8.99 - Soft and silky with hints of cherry and blackberry.
By:
Jonathan Rogers of The Solent Wine Experience