Jonathan Rogers of The Solent Wine Experience looks at Red Wines to Chill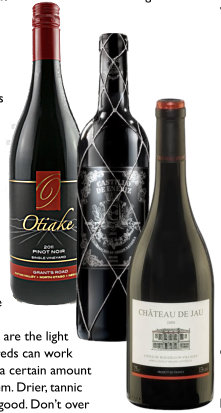 When the weather is warm and sunny there is nothing better than a chilled glass of dry, crisp refreshing white wine or a soft fruity rose full of summer fruit flavours. Sitting out in the garden with the sausages sizzling away on the BBQ sipping these wines is my idea of a perfect summer's day. But what if you don't fancy these typical summer wines? What if you fancy something different, away from the norm?
Historically we were always told to drink red wines at room temperature, certainly not from the fridge. However, chilling reds can be a great alternative to the normal summer wines and some can certainly be just as refreshing. I always tell people drink wine however they want to. It's all about enjoying the wine so you do whatever you want and I remember back in 2003 I was on a buying trip in the Languedoc Roussillon region in the south of France and that particular year was extremely hot. Every time we went to a restaurant, the reds came out chilled.
The best reds to chill are the light fruity styles. Full bodied reds can work but is better if they have a certain amount of fruit balanced with them. Drier, tannic reds don't tend to be as good. Don't over chill any wine as that will diminish the flavour, and try not to put ice in the wine as that will simply water it down.
The best red wines to chill are from the Pinot Noir grape. These wines tend to be softer and fruitier and lighter on the palate. The grape is very delicate and thin skinned so you don't get a huge amount of colour extraction and therefore they don't have as much tannin. The regions that grow some of the best Pinot Noir are Burgundy in France, Chile grows amazing fruit driven wines especially from the Bio Bio (so good they named it twice!) region in the very south of the country, and Otago on the south Island in New Zealand has great complex Pinot's with character. We are also growing great Pinot Noir here in the UK although most of it is going into our amazing sparkling wines.
Other grapes that work well for chilling are Grenache, Carignan and Syrah. These are the dominant grapes grown in the Languedoc along with Spain who also grow a huge amount of Grenache.
With only a few more weeks of proper summer left and the promise of August being hot, it's worth experimenting with some reds to chill and experience something different.
Here's a few to get you started:
Otiake Estate Pinot Noir 2011 New Zealand - £9.99 The Solent Wine Experience
Un-filtered to retain is full quality, its rounded with loads of red berry fruit.
Castillo de Eneriz Navarra Graciano Garnacha 2013 Navarra Spain £11.99 Virgin Wines
Soft and rounded with hints of stewed fruit.
Chateau de Jau Cotes de Roussillon Villages 2011 £6.50 Tesco
A mix of the varieties mentioned in my article, it has hints of black cherries and a slightly spicy character on the finish.