Fifteen or so years ago we were drinking Chardonnay by the bucket load. The heavily oaked, vanilla ladened white was all the rage, especially the Australian and Californian examples. Many of these new world producers went against traditional labelling designs by putting 'CHARDONNAY' directly onto the label in big bold lettering. This was an act of marketing genius, creating a brand name in itself no matter who the producer was. If it had Chardonnay on the label we bought it. However this also caused confusion. Many people did not realise that Chardonnay was in fact the grape variety as well as the brand. Many old world producers, the French, Spanish, Italians etc labelled their wines by region or producer so were in fact losing out. White wines from the Burgundy region for instance are a prime example.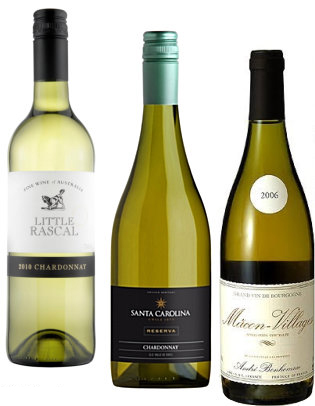 Chablis and Meursault are well known brands and are produced from Chardonnay but lost out on sales because 'Chardonnay' was not on the label and we did not know it was made from the grape.
Then it seemed our love affair for this grape diminshed. Its true that other varietals came onto the market but it seems our tastes changed from the oaked creamy wines to the more crisp dry whites.
But the trend of putting varietals onto the labels has now spread educating the consumers more on the different grapes used in wine production.
When our love affair with Chardonnay fell apart, others took its place in our hearts. Pinot Grigio and Sauvignon Blanc, for a few years now, are our sweethearts but Chardonnay is winding itself back into our lives. The New World producers took notice and started to use less oak in their wine making practices. They looked more towards the European styles which are drier and more fresher taking away that heavily oaked flavours we turned away from. The French have always believed in the Chardonnay grape. One of three grapes used in Champagne, these producers call it their 'White Truffle' and it seems now we consumers are flirting with it once again.
My new wine shop Vin Wine Merchants will be opening towards the end of February at 6 Queen St Emsworth so here is a small selection of Chardonnay wines I will be stocking:
McPhearson Little Rascal Chardonnay, Victoria Australia - £8.99
Fruity white with hints of vanilla with clean fresh finish.
Santa Carolina Reserve Black Label Chardonnay Central Valley Chile - £10.99
Fuller white with balanced oak fruit and a long fresh finish.
Producteurs Prisse Macon Villages Burgundy France - £12.99
Rounded fruit with balanced acidity and a long finish.
By:
Jonathan Rogers of The Solent Wine Experience / Vin Wine Merchants