2016 has been another good year for beer books. Beer is really popular and we now have over 1500 craft breweries in the UK brewing thousands of different beers. In order to get the most from beer I think it is useful to understand its history and to get to know the myriad of different styles that are now available at local pubs, supermarkets and off-licences. Here is my annual round up of beer books, all of which would make good Christmas presents for the beer lovers in your life.
Good Beer Guide 2017. Ed. Roger Protz. Camra. £15.99
This is the bible for the real ale lover. It is now in its 44th edition and at over 1000 pages is very good value for money. The books starts with a 30 page section of beer news, information about festivals, beer styles and beer appreciation. There is also a brief guide to beer styles. The bulk of the book consists of a county by county round up of the best 4500 real ale pubs in the UK as nominated by CAMRA branches. There are about 120 listings for Hampshire. Strangely there is only pub mentioned in the whole of the Borough of Havant, Coal Exchange in Emsworth, yet Portsmouth manages 19 entries. The final section of the book is a unique listing of all 1540 breweries in the UK including 34 for Hampshire. Locally we have two in the Borough of Havant, Emsworth Brewhouse and Emsworth Brewery.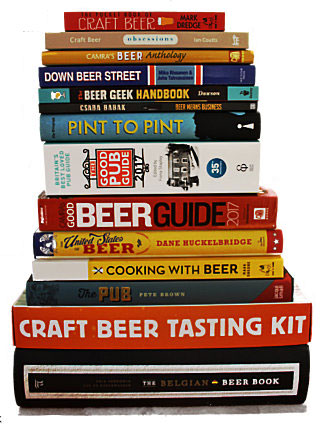 Good Pub Guide 2017 2017. Ed. Fiona Stapley. Ebury. £15.99
This annual, which is now in its 35th edition, lists over 5000 pubs as recommended by readers. The main focus is on pubs that offer food. The book starts with some general articles about pubs and then follows the county by county approach. I was pleased to see that there are 6 local pubs mentioned: Lord Raglan, Coal Exchange and Blue Bell in Emsworth; Wheelwrights in Havant; Maypole, Hayling and the Royal Oak at Langstone. A useful book if you are looking for a pub that offers a reasonable eating experience.
Pint to Pint. The Telegraph. Icon Books. 2016. £12.99
This is more of a book to read at home rather than take with you on holiday. It consists of around 130 two-page essays about pubs in different parts of the UK. The book is written by a variety of writers including beer experts such as Sophie Atherton and Adrian Tierney-Jones. The articles have all appeared in the Daily Telegraph between 2013 and 2015. Hampshire manages four entries with the nearest local pub being the Bat and Ball at Clanfield. The quality of writing is very good and may inspire readers to plan a holiday around some of the pubs mentioned in the book.
The Pub. Pete Brown. Jacqui Small. 2016. £22.50.
This beautifully illustrated large format hardback book would grace any beer lovers' bookshelf or coffee (or beer) table. Pete is one of our best known beer writers and has written such fine books as: Hops and Glory, Man Walks into a Pub and Three Sheets to the Wind. He has chosen 300 pubs across the UK (including two in Hampshire) and writes about their character, history and ambience. This is not a best beer or best food type of guide but a purely subjective journey around Britain with Pete stopping at various pubs and reflecting upon their character in a most entertaining way. A lovely book to read on a winters evening.
CAMRA'S Beer Anthology. Ed. Roger Protz. CAMRA. 2016. £9.99
This is a nice stocking filler for any beer lover. The book is a collection of quotes, essays, poems and writings about beer from various authors from C15 to the present day. All the great names of English literature had something to say about ale from Thomas Hardy to Graham Greene and from William Shakespeare to Chaucer. A lovely little book to dip into whilst you are supping a late night ale.
Cooking with Beer. Mark Dredge. Dog 'n' Bone. 2016. £16.99.
This is a cookbook for beer fans or possiblly a beer book for cooks. The book contains over 60 beautifully illustrated recipes all of which use different types of beer. The author takes us through the day with beery meals for breakfast, snacks, soups, main courses, cakes, desserts and even beer ice-creams. He also recommends an appropriate beer for each course. The instructions are very clear and there are lovely photos of the completed dishes.
The Pocket Book of Craft Beers. Mark Dredge. Dog 'n' Bone. 2016. £9.99.
It used to be simple when choosing beer, it was either bitter, lager or stout. Thanks to the craft beer explosion of recent years we are now inundated with different styles of beer. This book goes through the 50 main types of beer and gives examples of the best to buy in each category. If you cannot tell a Bock from an Alt (both German styles) and want to know the difference between American IPA, English IPA, Belgian IPA and Pacific IPA then this is the book for you. It is a book that will make you think twice before you put that usual six-pack of lager in the supermarket trolley.
Craft Beer Tasting Kit. Mark Dredge. Dog 'n' Bone. £14.99
This kit consists of a beer book, beer mats, bottle opener, tasting notebook and a flavour wheel to help you describe different beers. The book is a stripped down version of Pocket book of Craft Beers (see above). This could make a fun present for the beer lover who has everything.
Craft Beer Obsessions. Ian Coutts. Hardie Grant. 2016. £9.99
This pocket sized book is another style guide which breaks beer down to seven main categories: Pale Ale, Amber/Brown Ales, Wheat, Porter/stout, Lager, Belgian and others. It is very clearly written by a beer expert and includes many personal recommendations of the best beers of each style. A great little book to take with you next time you go beer shopping in a big supermarket.
Beer Means Business. Csaba Babak. Rethink Press. 2016. £10.99
The craft beer phenomena originated in the USA in the 1980's but really took off over the last 10 years when we have seen an explosion in the number of brewery start-ups. This book attempts to study the current beer industry and look at what has driven the market and the challenges that face small brewers in the future. It is very well written for a business book and has some fascinating insights into the brewing industry.
Down Beer Street: History in a Pint Glass. Mika Rissanen & Juha Tahvanainen. Souvenir Press. 2016. £12.
Like beer? Like History? Then you will love this quirky little book which looks at key moments in European history and the beers that might have been consumed by the key players. The Reformation, exploration of the Arctic, WW1, Tour de France, coming of the railways and many other events are all discussed with reference to contemporary beers. The book is written by two Finnish history professors and is a delightful read.
The Beer Geek Handbook. Patrick Dawson. Storey. £10.99
This is a most amusing illustrated American book about the joys of beer geekery. This is what happens when beer takes over your life and you have to try every type of beer that is brewed. The book covers the 10 Commandments of Beer Geeks, what to look for in the ideal beer, how to tell beer geeks from beer snobs and many other pearls of beer geek wisdom.
The United States of Beer. Dane Huckelbridge. W Morrow. £16.99
This informative book looks at the history of beer in each region of the USA. The main thesis of the book is that local beer styles were influenced by early immigrants who brought brewing skills from England, Germany, Netherlands, etc. There is also a fascinating account of the rivalry between beer and whiskey in the Southern states. If you are at all interested in American history then this book will be very rewarding.
The Belgian Beer Book. Eric Verdonck & Luc de Raedmaeker. Lannoo. £45
If you are looking for something really special that will give much pleasure to a beer lover then I can really recommend this sumptuous book. It is a large format, beautifully illustrated 700 page hardback book covering everything you could want to know about Belgian beer. In Belgium the tradition of making local craft beers never died out and the country boasts a huge range of fascinating beers. This book gives you the complete history of Belgian brewing together with detailed guides to each style and many recommendations. There is also a useful section on Belgian breweries which is essential for anyone contemplating a holiday in Belgium. Definitely my beer book of the year.

Malting and Brewing in Havant. Inns of Rowlands Castle. Inns, Public houses and Breweries of Bedhampton. Havant's Inns, Posting Houses and Public Houses. Public Houses of Waterlooville. Steve Jones & Ralph Cousins. Havant Borough History Booklets. (£4-£6)
If you are interested in the history of pubs and breweries in the Havant area then I would recommend this series of Local History pamphlets. The publications are available from the Spring Arts and Heritage Centre, East Street, Havant. They are all well written and illustrated with many rare photos.
By
David Harris, Member of the British Guild of Beer Writers