Carl and Reece invite your questions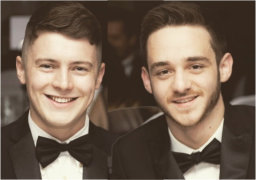 Hewitt Matthews
Dear Carl and Reece
buy the majority of my shopping on Amazon and I want to bag a bargain on Black Friday. However, I'm concerned about being scammed! Do you have any tips?
Thank you for your email. Friday 26 November is Black Friday, one of the hottest dates in the retail calendar. Millions of shoppers will be joining you in searching for early Xmas presents. It's also a time when scammers will be looking to steal your hard earned money by sending out rogue emails.
Here are three internet scams to be aware of:
You've won a £100 Amazon giftcard - The email will be poorly designed, which is always a big red light. No genuine business will ever send out an email littered with spelling errors.
Amazon locked account - Hackers will send out a text message to say that your account has been locked and that you must click on a button to open it. Don't!
Spin to win a prize - "Amazon 30th anniversary celebration! We give our members 1 free spin for chance to win many exclusive prizes." This con was set up to encourage people to click through to another website so they'd enter their details to win a prize. Ironically, Amazon's not even 30!
Hackers will use the dark web to sell off stolen data as they know they can make a fortune from organised criminals, identity thieves, spammers, etc. They filter the data into segments to be sold off in bulk for future phishing campaigns.
If you've fallen victim to a scam and given out your personal information, reset your passwords. Contact your bank immediately to inform them that you've been scammed. Update your IT anti-virus software too. If you've transferred money within the last 24 hours, phone the police.
WARNING SIGNS
The sender has requested personal information, like a credit card number or login credentials
If the URL doesn't match the company's website
If the link seems weird. Are there strange characters embedded in the text of the email?
The sender's phone number doesn't match the company's
Good luck and safe shopping!