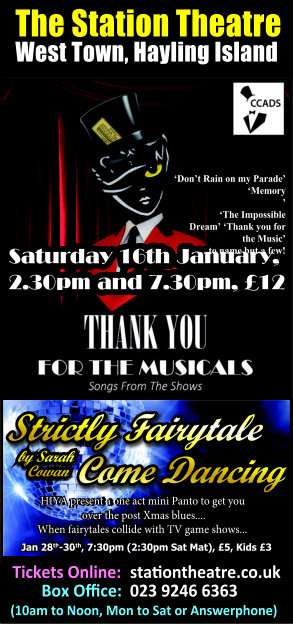 New Year is a time for the members of Hayling Island Young Actors to perform their own panto based on the ever popular Strictly and with the addition of fairytale. 'Strictly Fairytale Come Dancing' is at 7.30pm from 28th to 30th January with a matinee on Saturday.
Then HIADS starts building its set for 'The Ladykillers' which opens on 5th March. The play was written by Graham Linehan (creator of 'Father Ted') and is based on the Ealing comedy of 1956 that starred Alec Guinness and Peter Sellers. It was a huge success when it opened four years ago and is now available at your local theatre.
Set in 1956 the characters are the same as in the film but the story unfolds with some differences so that it suits the stage. It is exuberant and inventively funny and we are looking forward to sharing the joy of this play with our audiences.
'The Ladykillers' opens on 5th March and runs until 12th March and tickets are £8. They are available from the box office at the Station Theatre on Hayling Island, open from 10.00am to noon Monday to Saturday, on 023 9246 6363 or on line at www.stationtheatre.co.uk