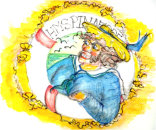 Able Seaman Thwarts First Lord of the Admiralty!
Havant Light Opera to present HMS PINAFORE.
This satirical, witty, rollicking tale of love set on a Portsmouth warship was first performed in 1878; it was the first blockbuster hit from the remarkable partnership between Gilbert & Sullivan.
The opera's gentle satire builds on a theme of love between members of different social classes. The opera also pokes good-natured fun at the Royal Navy, parliamentary politics and the rise of unqualified people to positions of authority. In particular there is a brazen satire on the career of W. H. Smith, who was M.P. for Westminster from 1868 to 1885. He had risen from a newsagent to be head of the Admiralty as First Lord, a post offered to him by Disraeli, and which he held from 1877 to 1880.
The First Lord of the Admiralty intends to marry the Captain's daughter, but she has other ideas, and is intent on eloping with a humble sailor. The Captain himself fancies a local supply boat woman. Fear not; it all works out at the end!
HMS PINAFORE will be performed at The Spring Arts & Heritage Centre from Tuesday 27th June to Saturday 1st July at 7.30 pm. Tickets £12 (Children £6) Box Office 023 9247 2700 or online at www.thespring.co.uk
A further performance will be given at the Blendworth Church Centre, Horndean on Saturday 8th July in aid of the hospice at home charity The Rosemary Foundation. Free admission… Retiring collection.