Pfizer pharmaceuticals company based in Havant has certainly made a difference to many different charities and organisations in the area over the past few years.
For two days in April and May, employees from Pfizer took time out of their working day and joined up with the Positive Pathways Project to lend a hand and support worthwhile local community projects. Positive Pathways support local residents in the Havant area who need assistance to volunteer in the community, they have a personal plan created for them to help them reconnect with their community. Team volunteering days are a great way to do this.
In April, Pfizer joined Positive Pathways for a day at Billy's Lake in Denmead, building fences and undertaking various conservation tasks at the large site, which is dependent on volunteers to maintain the beautiful woods and lake area. Debbie a volunteer from Pfizer said, "It's been a very rewarding day and nice to see the difference we have made in just a few hours. I will definitely be volunteering again and would highly recommend people get involved in community projects."
Marion a volunteer from Positive Pathways said, "I found volunteering today very worthwhile, it's great to feel like I'm achieving something, and nice to get out and meet new people."
The two teams worked tirelessly around the Billy's Lake site, getting tasks done that would have otherwise taken days to finish. Lillian Wakely from Billy's Lake said, "the team from Pfizer and Positive Pathways worked so hard and did a fantastic job of building the new fence and helping to clear lots of the brush and saplings around the site. What a lovely group of people."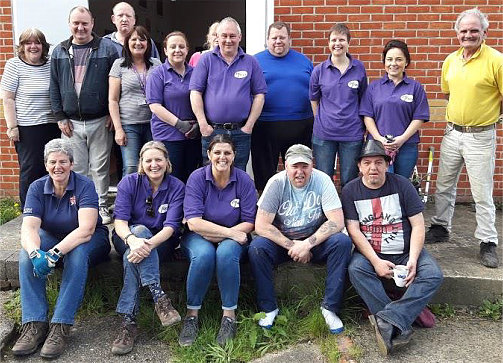 The second event that Pfizer and Positive Pathways joined up for was helping Waterlooville Girl Guides at their Headquarters to make a shingle path around the building to create better access for the building. They also cut back and cleared the garden ready for the Guides to enjoy for the summer months.
Pfizer volunteer Clare thought initially the path would be too big a task but explains, "We rallied round with Positive Pathways making the area low maintenance for the future". Nikki from Pfizer said, "I love volunteering, it makes me feel good to know I am helping the community, meeting new people and its fun doing something different to the norm."
Waterlooville Girl Guides were thrilled, Nicky Bull from the Guides said, "with their help today we have achieved jobs that have needed doing for years, the place has never looked so good. The volunteers were smiling throughout and were a pleasure to have here. We are extremely grateful to Pfizer and Positive Pathways for the work they have done for us."
Without the support of local businesses, many charities and community groups would struggle. For more information about how you can get involved with the employee volunteering scheme contact Rachel Taylor at Rachel.taylor@cfirst.org.uk or telephone 0300 500 8085 ext 9724