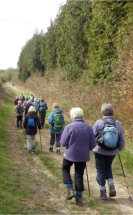 Hampshire Walkers walking club has around forty-five members. Twenty walkers turned up for a recent walk of 7.5 miles in the Cheriton area followed by a pub lunch at the Hinton Arms.
The club membership secretary, Ruth McCann, said "There is no joining fee so potential members can try us out to see if they like what we do. If they decide to join, the annual subscription is £3. Members receive a monthly walking programme by email with a brief description of the walk, distance, start time and lunch arrangements, either a picnic or a pub lunch which is the general rule in the winter.
For more information about Hampshire Walkers, contact club membership secretary Ruth McCann on 01730 261146.