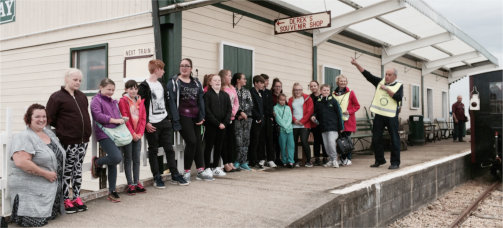 sters between the ages of 9 and 16 years, who are all 'young carers' of family members, enjoyed a day out at the seaside at Hayling Island.
Three Hayling Businesses joined Havant Rotary for the afternoon's fun.
Havant Rotarian Harry Wilkinson arranged fellow Rotarians to transport the youngsters to Eastoke.
There, the manager of the Coastguard Café Caroline Clark sponsored a fish and chip feast, with coke and lemonade.
Then Bob Haddock of the Hayling Light Railway sponsored a ride on the train to Beachlands.
The Beachlands Management sponsored all the rides and so all the fun of the fair was greatly enjoyed by the young carers.
Rotarian Harry Wilkinson said; "To see the young people relaxing with such wide smiles on their faces was very rewarding"
The whole afternoon was very much appreciated by the carers and their coordinators.
Havant Carers Group links with Off the Record. Leigh Park so if you know of a young person who is caring for a family member please contact Off the Record.
If you would like to know more about the work of Havant Rotary then please visit www.havantrotary.org.uk or email Jenny Edgell president@havantrotary.org.uk