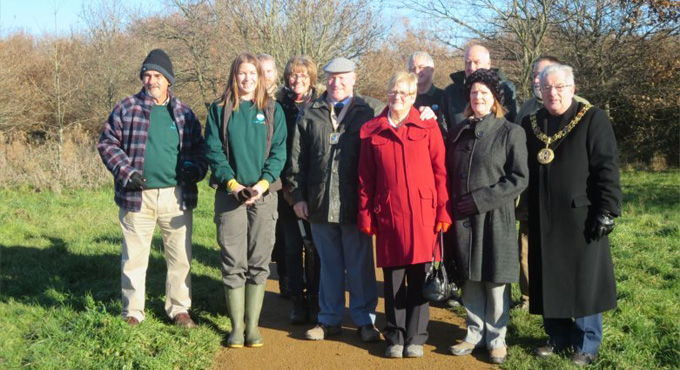 Tranquil woodland and lake now accessible thanks to funding from Veolia and Heritage Lottery Fund for a new footpath.
Billy's Lake, a former gravel extraction pit created in the late 1800s, sits on the border of Waterlooville and Denmead quietly playing host to a variety of wildlife in its oak woodland and fishing lake.
Lillian Wakely, Community Conservation Officer for The Billy's Lake Project, engages the local community by providing children and adults with opportunities to learn new skills, to connect with nature and understand the importance of conservation.
"Our wonderful volunteers have been instrumental in the success of the project; one volunteer, Roger Pulley, applied for the funding to have a footpath installed as the area became completely inaccessible during winter months". It is wide enough for wheelchairs and mobility scooters, starting at the Southdown View car park (across the road from the Taylor Wimpey development on Hambledon Road).
As the area sits on the border of two administrative boundaries, both the Mayor of Winchester and Mayor of Havant were invited along to formally open the footpath. Lillian told both Mayors about her future aspirations for the project such as a creating a Kingfisher nesting site. The Mayor of Winchester talked about the huge benefits of this local community having a sense of ownership over this piece of land which has helped to make this area safer and well looked after, "it's truly a community effort".
If you have any knowledge of the area's history please contact billyslake@acorncentre.org.uk