Information from "The Neuroscience Of Singing" by Cassandra Sheppard.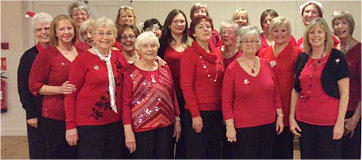 The science is in. Singing is really, really, good for you. And the most recent research suggests that group singing is the most exhilarating and transforming of all. Singing increases self-awareness, Self - confidence and our ability to communicate with others. It decreases stress, comforts us, and helps us to forge our identity and influence our world.
What an enjoyable year we have had. And I must say that I am sorry it has come to an end. On the other hand, 2017 may turn out to be quite exciting. Watch this space ! And at last we have our lovely new banner, thanks to Lucy Van De Ven. We have had some amazing sing-outs, ranging from Sheltered Housing to social groups etc. raising money for charity in the process.
November and December were particularly busy with the Denmead WI birthday party, the Memorial Service at St John's Cathedral, Portsmouth, a fundraising Carol Service for Naomi House, a Memorial Service at The Oaks, Havant, Lee-on-Solent Art Group, the Meridian Centre, and QA Hospital, ending with a celebration of Christmas songs and Carols at the Purbrook Centre.
Of course we also have our Day Chorus, Silver Spirit, made up from those lucky enough to be retired. This gives us a lot of fun, and entertains others in Day Centres, and Residential Homes etc. Although we are the entertainers, we also get a lot back from an audience, as songs are remembered and memories are stirred. Communication is a wonderful thing.
We meet every Tuesday evening at Havant Methodist Church, Hants, from 7-30 until 10pm. For info call Joy, Events, 023 9264 1997 or Sandra, PR, 023 9245 1220 or follow us on Facebook.
We are Seeking a Musical Director
As the song says, "You're The One That I Want, oo-oo-o." Spirit-of-the-South, are seeking a Musical Director. We are members of LABBS, Ladies Association of British Barbershop Singers, and have sung together since 2008. Having a good range of songs in four part harmony, our 23 ladies enjoy taking part in competitions, performing in sing-outs, concerts, and community events. We look forward to further developing our musical potential.
If you are interested, would like to know more and meet the chorus, please contact the Chairman, Jean Lambert at j.f.lambert@ntlworld.com
Please include some details of your musical background, directing experience, and what you feel you could bring to the chorus. Reasonable expenses will be met. We rehearse every Tuesday evening at Havant Methodist Church, Hants, from 7-30 until 10pm.