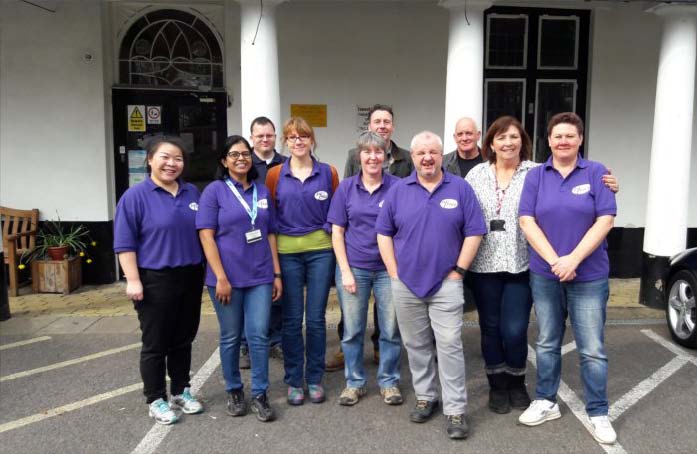 A team of employees from Pfizer, a large business based in New Lane, Havant, spent an enjoyable day volunteering their time at Merchistoun Hall, Horndean doing a variety of outside tasks. Merchistoun Hall is in the middle of a large project to re-landscape the grounds making it a beautiful place for the community to enjoy along with its stunning Manor House.
The volunteers split into 3 teams to cover a variety of activities around the 4.5 acres. The teams laid woodchip along the path making the woodland walk accessible. They built fences out of pallets around the children's play area to help keep them safe. They also helped to line and fill large planters to be placed around the gardens.
Denise Clarke, the Volunteer Coordinator at Merchistoun Hall said "On behalf of Horndean Community Association I would like to say a big Thank You to the volunteers from Pfizer who kindly assisted us with tasks at Merchistoun Hall. We are always very pleased to have volunteers join us in making Merchistoun Hall a wonderful place to visit, whether to join one of our many groups or just visit for our events."
Pfizer are very community minded and take part in a rolling program of volunteering organised by Community First. Pfizer volunteer Nicki who was taking part in volunteering for the first time said, "I've enjoyed today and it has been good to do something constructive. I would definitely encourage others to volunteer their time for worthy causes." Natasha another Pfizer volunteer added "It's been fantastic to work outside and see the fruits of your labour, it's been very satisfying."
The volunteers from Pfizer enjoyed their day at Merchistoun Hall and the amazing difference they made to the outside area was clear to see.