Wild Venison with Blackberries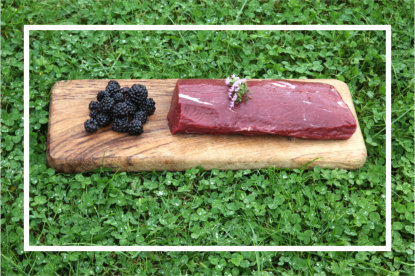 Wild venison is back in season, with roe and fallow deer in historically high numbers, it's the most sustainable meat you can buy. It's also healthy for you and delicious.
Blackberries are at their seasonal best at the moment and the combination of venison and blackberries make this the perfect early autumn treat. You can use the loin for a spectacular meal, although a haunch steak or even roast would work just as well.
The blackberries add a sweet/sour hit that compliments the venison perfectly. It does mean a spot of foraging, but you can gather them on a five minute stroll from the farm shop. It's a great activity with the kids providing a perfect excuse for some fresh air.
This venison and blackberry recipe is extremely simple and delicious. Serves two:
2 thick venison loin steaks (or haunch steaks) 400g
1 tbsp olive oil
1 tbsp balsamic vinegar
150ml beef stock
2 tbsp redcurrant jelly
1 garlic clove, crushed
85g fresh blackberries
Pan fry the loin steaks in the oil for 4-5 minutes over high heat (or BBQ grill) before turning over and finishing for another 4 minutes before setting aside to rest for 10 minutes.
Add the balsamic vinegar to the pan, followed by the stock, jelly and garlic and deglaze the pan, stirring over high heat. Add the blackberries and cook over medium heat until they soften, then serve over the venison.