Christmas Wines Under £10
It's all too easy to go overboard on spending during the festive period. The kids want the latest action figures, the teenagers want the latest gadgets while Dad is happy with the festive socks, Christmas seems to get more and more expensive each year.
So, this year I have decided to show you a range of wines which I stock that have both the quality, which is important at Christmas, but still won't break the bank. Some budget wines can taste, well like budget wines and although you may think you are getting a bargain, the wine itself is far from decent. Some big brand names are mass produced with the grapes coming from many different areas and sources. This can lead to inconsistency in the quality in the grapes and a lack of care and attention in the wine making practices. Ask any wine expert; you can't make good wine from bad grapes. Smaller producers are the opposite. They know exactly where the grapes come from giving them more control on the growing, and ultimately more care and attention from grape to bottle.
'Wine to open the pressies with' – Christmas morning is traditionally fizz time, or more commonly Bucks Fizz time. I have gone for a Prosecco Frizzante (less fizzy) £8.99 – loads of gorgeous dry apple fruit with gentle bubbles and a lingering finish.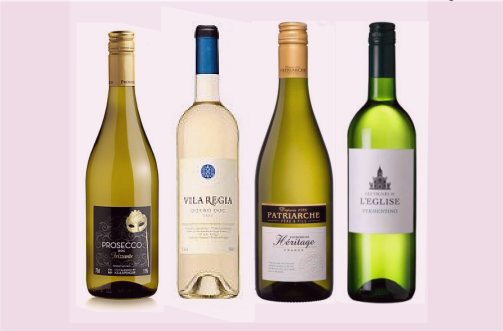 Aperitif time – Generally something softer and lighter is the preference here so try my Vila Regia Blanco from the Douro in Portugal, £7.99. A lovely fresh and rounded white with loads of fruit on the finish. Its soft and fruity and not over powering on the alcohol front (12%).
Starter time – Whether you are having a fishy starter or something like pate or light meat, again go for something lighter. For fishy starters I have a lively white from the South West of France. Heritage Blanc £7.99 is a crisper white but with a lovely aromatic finish. This would also pair nicely with a ham based starter.
Main course –If you are staying traditional and going for Turkey you need a white but something with a little more body and less acidity. Grapes like Viognier, Vermentino, Marsanne have more tropical fruit so I have Les Vignes de L'Eglise Vermentino £8.99 from the Languedoc. Lots of peachy characters jump out of the glass. If you are having something like duck or goose then try Il Faggio Montepulciano from Italy £9.69. Full bodied yet a wonderful elegance with loads of flavour.
For the cheese board go for a red with body and a bit of tannin balanced with a bit of fruit. Spitting Spider Shiraz from Australia at £9.99 has just that. Red berry fruit with balanced tannin with a hint of spice.
All these are available at VIN Wine Merchants 6 Queen St Emsworth PO10 7BL with FREE Wine Tastings throughout December.
By
Jonathan Rogers of VIN Wine Merchants Emsworth